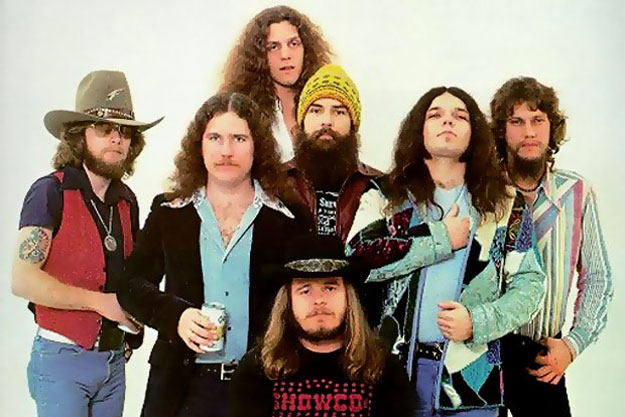 So I stumbled across this really cool video of Lynyrd Skynyrd live in Ardent Studios, 1973. I wanted to share it with you and also my little story below about the origins of "Free Bird." I was a talking head in the documentary Lynyrd Skynyrd – Gone With The Wind
, which many have seen on AXS TV.
Lynyrd Skynyrd Live from Ardent Studio, 1973

And now I present you with the story behind the writing and recording of one of rock's most iconic songs, "FREE BIRD" Originally released on (Pronounced 'Leh-'Nérd 'Skin-'Nérd)
(MCA, 1973).
Guitarist Allen Collins came up with the music to "Free Bird" very early in the band's songwriting process. But while everyone recognized the grace of the chord progression, Ronnie Van Zant could not come up with a suitable vocal melody.
Recalls Gary Rossington, "Allen had the chords for the beginning, pretty part for two full years and we kept asking Ronnie to write something and he kept telling us to forget it; he said there were too many chords so he couldn't find a melody. He thought that he had to change with every chord. Then one day we were at rehearsal and Allen started playing those chords again, and Ronnie said, 'Those are pretty. Play them again.' He said, 'I got it,' and wrote the lyrics in three or four minutes—the whole damned thing!
Like "Stairway to Heaven," one of its chief competitors for the unofficial title of rock's most epic song, "Free Bird" starts out as a ballad before becoming a solo-fueled rocker. That was not by design, recalls Rossington: "When we started playing it in clubs, it was just the slow part. Ronnie said, 'Why don't you do something at the end of that so I can take a break for a few minutes.' I came up with those three chords at the end and Allen and I traded solos and Ronnie kept telling us to make it longer; we were playing three or four sets a night, and he was looking to fill it up and get a break."
The structure of "Free Bird" was set, but it was still lacking one final element; the elegant piano intro, which was written by then-roadie Billy Powell. "One of our roadies told us we should check out this piano part that another roadie had written as an intro for the song," says Rossington. "We did–and Billy went from being a roadie to a member right then."
The original album version of the song clocked in at almost 10 minutes and according to Rossington and Ed King, MCA objected to putting such a long song on the band's debut album. A 3:30 radio edit was cut and the single, at 4:10, became a Top 20 hit. "MCA said we couldn't put a 10-minute song on an album, because nobody would play it," recalls King. "Of course, that was the song everyone gravitated towards!"
On Skynyrd's first live album, 1976's One More From the Road
Van Zant can be heard asking the crowd, "What song is it you wanna hear?" The overwhelming response leads into the 14-minute version of the song that became iconic. Though Van Zant often dedicated "Free Bird" to Duane Allman, contrary to urban legend, it was not written for him.
http://alanpaul.net/wp-content/uploads/2014/05/lynyrd-skynyrd-top-10.jpg
417
625
AlanPaul
http://alanpaul.net/wp-content/uploads/2014/03/alan-imus-300x158.jpg
AlanPaul
2017-05-24 21:07:15
2023-05-24 12:50:14
Lynyrd Skynyrd Live from Ardent Studio, 1973 – Story behind Freebird