Story behind Sweet Home Alabama on the 40th anniversary of the crash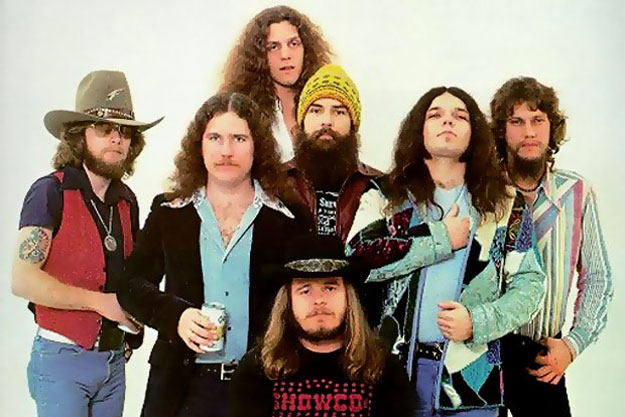 On this day (October 20) in 1977, Lynyrd Skynyrd's twin engine plane crashed in a swamp in Gillsburg, Miss., killing three of the band members – singer Ronnie Van Zant, guitarist Steve Gaines and singer Cassie Gaines – assistant manager Dean Kilpatrick and both pilots on impact. Twenty other people survived with various injuries, some very severe.
The last surviving original member still in the band is guitarist Gary Rossington. Sending best wishes and also to early members Ed King, Artimus Pyle, Cassie Hawkins and Larry Junstrom.
In tribute to the band and those lost on the 40th anniversary of the awful crash, this is the story of one of their most enduring songs.
"SWEET HOME ALABAMA"
Second Helping (MCA, 1974)
"I knew 'Sweet Home Alabama' was a classic the minute we wrote it," says guitarist Ed King, who was primarily responsible for the song's music, most notably its defining riff. Now get this: he wrote it on his first day as the band's guitarist.
King had met Lynyrd Skynyrd when his band the Strawberry Alarm Clock opened for them. When bassist Leon Wilkeson abruptly left the band, they asked King to fill in. When Wilkeson returned, King slid over to Strat, their dual guitar lineup became a triple threat. Gary Rossington came up with a simple, evocative fingerpicked D, C, G progression – which he terms "the banjo/steel guitar part" – and feeling like he was onto something, kept playing it over and over.
"Gary had been playing his riff for 15 minutes when I walked in and threw mine in to bounce off of what Gary was doing," recalls King. "That was what you know as the 'Sweet Home' riff, and when Ronnie heard it, he locked in and wrote the words."
"He had all the lyrics within an hour," says Rossington. "We used to travel through Alabama a lot and get onto back roads and just marvel at how pretty it was and how nice the people were. And Neil Young was, and still is, one our favorite artists, so when he came out with 'Southern Man' and 'Alabama,' criticizing the South, we said, 'Well what does he know? He's from Canada!' So we threw that line about him in there. We were told by some people to take out the parts about Neil Young and [former Alabama governor] George Wallace, but we said, 'Hey it's just a song. And we're going to record it the way we wrote it.'"
Adds King, "I wrote the choruses and everything up to Billy's piano solo. It was a three-way collaboration as my part inspired Ronnie and I never would've been inspired to write my part without Gary's contribution.
"Right after we wrote it, Ronnie said to me 'Well? There's our Ramblin Man.'"
http://alanpaul.net/wp-content/uploads/2014/05/lynyrd-skynyrd-top-10.jpg
417
625
AlanPaul
http://alanpaul.net/wp-content/uploads/2014/03/alan-imus-300x158.jpg
AlanPaul
2017-10-20 19:06:24
2023-05-24 12:48:31
Story behind Sweet Home Alabama on the 40th anniversary of the crash