An interview with Bill Russell

You can make a strong argument that Bill Russell is the greatest NBA player ever. I watched less NBA this year than any year in decades, but have already been digging the Playoffs, which inspired me to post this interview I did with Russ for Slam. All hail a brave, complex, misunderstood man.

by Alan Paul
Bill Russell was basketball's best defender and greatest victor, winning 11 championship rings in 13 Celtics seasons. But he was also much more-the key figure in modernizing the sport. By refining and popularizing blocked shots, fast-break ball and above-the-rim play, Russell ushered hoops out of the set shot era and into the age of alley oops. An athletic 6-10, 220, he roamed the floor freely, blocking as many shots away from the basket as underneath it while running and handling like a small forward and passing like a guard.
Russell refined his game at the University of San Francisco, where he posted 23 points and 13 blocks in his first game, then closed out his USF career with a stunning 55 consecutive victories and two NCAA titles. He won a gold medal in the '56 Olympics before joining Red Auerbach's Celtics and instantly altering the NBA landscape. As a rookie, Russell scored 19 points and grabbed 32 boards in Game 7 of the '57 Finals to earn his first ring. Over his 13 seasons, Russell won five MVP awards, played in 12 All-Star games and averaged 15.1 ppg and 22.5 rpg. He also battled Wilt Chamberlain in one of the sport's all-time greatest rivalries. They faced off 142 times in 10 years, with Russell's teams winning 85 of those meetings.
Russell's impact wasn't limited to the court. He was the first black coach of a major sports team, winning his final two titles as the Celtics' player-coach-with no assistants-and going on to coach Seattle and Sacramento. He was also an outspoken advocate for social and racial justice, vociferously refusing to stay in hotels or eat in restaurants that denied service to blacks who lacked his celebrity status. And he was always an odd, somewhat distant public figure, refusing to sign autographs and insisting that the Celtics retire his number in an empty Boston Garden. Today, the 67-year-old Russell shows little interest in discussing such topics, though he's happy to talk hoops and quick to explain why he was the right person to write a "how-to" guide to winning, Russell Rules.
"I think I know a lot about the subject," Russell says. "My college team has the second-longest winning streak in history. My Olympic team still holds the record for greatest margin of victory. And the Celtics were perhaps the best team in the history of American sports. We won eight straight titles and nine of 10 in the decade of the '60s. To do that against the best basketball players on the planet is remarkable."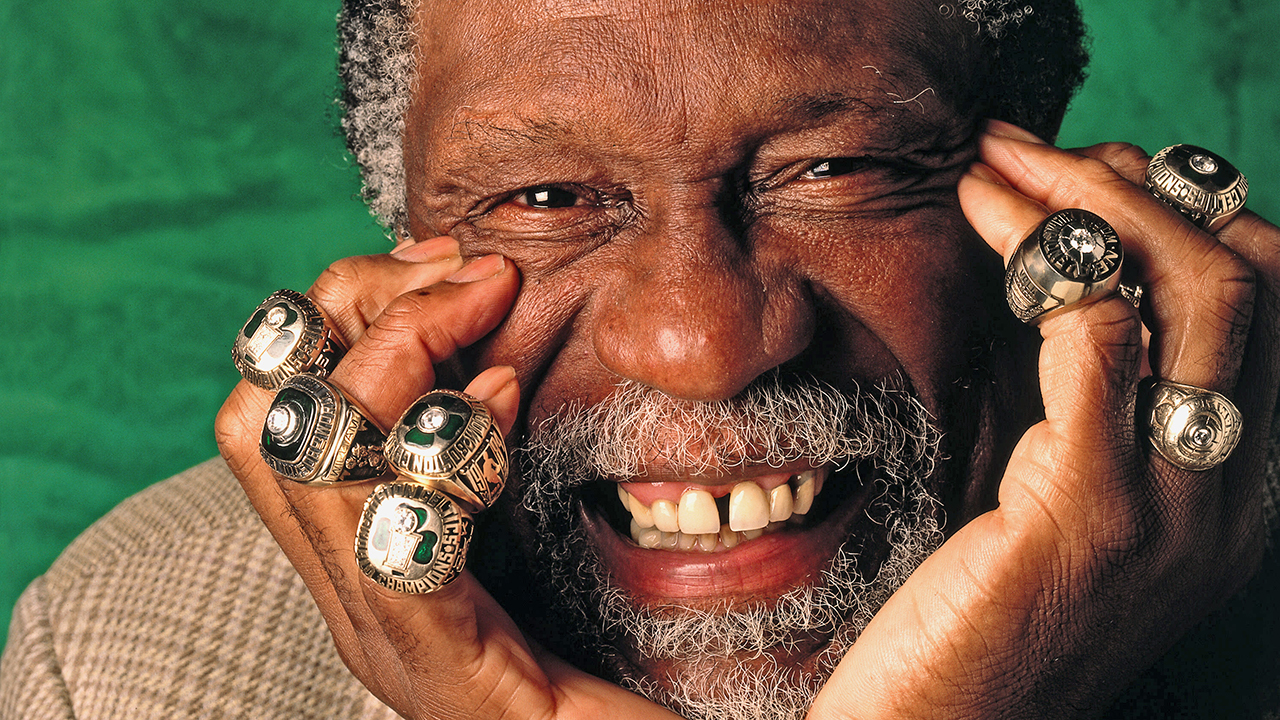 SLAM: You were so heralded for your defensive ability that people often overlook how well-rounded your game was.
RUSSELL: To me, I was a better offensive player than a defensive player. By the end of my first year, I always put the offense in motion, and after a year or two almost all the plays went through me. In fact, Havlicek said after I left, he missed me more on offense than on defense.
SLAM: Passing is often overlooked in post play.
RUSSELL: I'd say 95 percent of people who view the game don't know about that. Only the really good coaches see how important it is that all your players know how to pass from their position. My ability was unique because I could make the passes from any position, which not many people have ever been able to do. Oscar [Robertson] could, Michael [Jordan] could, and, of course, Magic [Johnson] could. He was probably the best ever at making passes that anybody can catch from any position on the floor.
SLAM: When Wilt entered the League after your third year, many said your era was over. Did that competition become an inspiration?
RUSSELL: No. I'd set a standard to win and that didn't change. Wilt was an enormously talented man and I wasn't going to do things that would inspire him to play harder, even if that meant giving him an easy basket here and there. You have to understand, this was a great, great player. And you had to keep things in perspective. He was a guy you couldn't dominate physically or mentally. You can't play somebody else's game and have a chance to win. We had a style when he arrived, and the idea was to maintain that style, because it was successful.
Wilt's numbers speak for themselves: 100 points in a game, 27 rebounds averaged in a season! But after he did all these things, Wilt kept on not winning, and people never understood that, so they started criticizing him. But I never did. I thought he was great. Basically, I saw it as he had an agenda and I had an agenda. And we both fulfilled our agendas.
SLAM: Though I'm sure Wilt would have liked to win more games against you.
RUSSELL: Well, he'd have to get in line for that. There wasn't a player who I played against who didn't wish they had won more.
SLAM: It's sad that Jerry West views his career largely as a failure because of his inability to beat the Celtics. If the positions had been switched and you'd been to the Finals many times only to lose, would you feel like a failure?
RUSSELL: I don't know. You have to view your career from what it is and not what it might have been. I don't speculate.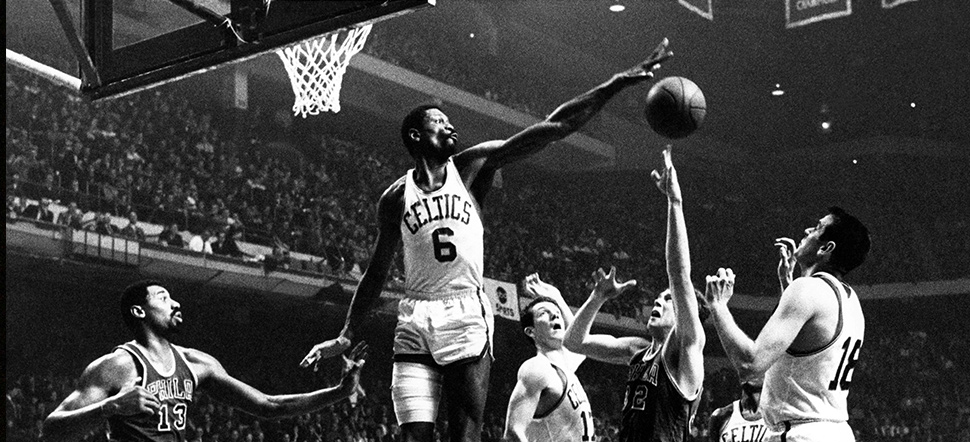 SLAM: What is the key to getting yourself in the position to win?
RUSSELL: First of all, understand that it's a game you're playing. Then figure out how to take the skills you have and make them have an effect on how the game is played.
SLAM: But you changed the way the game is played. For instance, in your first NCAA championship, you threw down two reverse alley oops which demoralized LaSalle. Were you making that stuff up as you went, or were others playing that style somewhere?
RUSSELL: I was basically making it up as I went. But K.C. [Jones] was the only one making passes like that to me. The others were shooting so badly, I'd just grab the ball and put it in.
SLAM: You also changed defensive concepts by leaping to block shots, which was considered fundamentally wrong. Where did you learn that?
RUSSELL: When you play seriously every day, you discover things about the game. You find out things you can't do, and you find out what you can do. Knowing the rules is very important, because they tell what you can do, just as much as they tell you what you can't do.
SLAM: Sometimes, rules change. The NCAA doubled the width of the lane to slow you down.
RUSSELL: They said that, but it was actually one of the most helpful things they could've done because I was very mobile. It made the big slow guys add another step to their positioning, which gave me more room to operate.
SLAM: In college, you and K.C. spent as much time talking about basketball as playing it. Did those conversations help your development?
RUSSELL: Oh yeah! When you talk about your craft, you begin to pinpoint the things that bother you and understand how to either avoid them or improve them. How do you change if you always commit a foul in a certain situation or keep finding yourself in a place on the court where you can't make a shot? The other thing is developing an understanding of your opponents' mentality. You have to understand what makes a player repeat the habits he relies upon. Even very good players want to do the things they're most comfortable with. If you know that, you know how to act to force him away from those things. If you don't know, then you're just gonna have to react as he does them, and you are at a disadvantage.
SLAM: You've said before that a great basketball player should strive to play with honesty and integrity. What does this mean to you?
RUSSELL: It's about taking whatever your skills are and using them as best as you can, for as much time as you can.
SLAM: How would you describe your relationship with Red Auerbach?
RUSSELL: From the very first game it was obvious that he respected my talent and skills, and that he respected me as a person. When people respect you, you respect them.
SLAM: You joined the League only seven years after the first black player, and many fans were still nasty. Was that hard to deal with?
RUSSELL: No. That was never a factor. Fans all over the country were racist and obnoxious, some places more and some less, but I never permitted that to have an adverse effect on my playing, and within the Celtics that did not exist.
SLAM: How did you end up as the Celtics' player/coach after Red retired?
RUSSELL: Red offered me the job first and I said I wasn't interested. So he asked if I had any recommendations and said that he would not hire anyone who I didn't approve of 100 percent, because I had meant too much to the franchise. I had some ideas, but we couldn't work out a deal. Frank Ramsey, who was my first choice, couldn't leave home. [Bob] Cousy couldn't get out of his contract at Boston College and so on. Red came up with one last name, and I just wasn't going to play for that person, so I decided that I would, in fact, do it.
SLAM: And you became the first black coach in the history of American sports.
RUSSELL: Which had absolutely nothing to do with getting my job done, from my viewpoint. The biggest advantage of the change is I was starting to get bored. We had won eight straight NBA championships. That is enough of a statement of anything you want to say, so the question becomes, "What's next?" Taking the job forced me to totally re-immerse myself in the game. I had to take all of Red's concepts and strategies and incorporate them in my own way.
SLAM: Your first year as coach ['66-67], the streak was ended by the Sixers, who some call the best team ever. What made them so good?
RUSSELL: They came together for a season as a completely compatible group, in terms of both physical talent and attitude. They surrounded Wilt with some extraordinary players who nobody talks about now. Guys like Chet Walker, Luke Jackson, Hal Greer, Larry Costello, Wali Jones and Matt Guokas, with the great Billy Cunningham off the bench. And they played together as a unit. They didn't defer to anyone.
SLAM: When they beat you, Philly fans carried a sign reading "Boston is dead," which many believed. Did you have any crisis of confidence?
RUSSELL: No. We lost that one and then won two more. Last year's championship is only important in how other teams fear you; you still have to go out and beat everyone again. People say there were better teams than the Celtics, but we set the standard. A given team might come up for a year, but only we could sustain it.
SLAM: The game's next great center, Kareem Abdul-Jabbar, came into the League the year you left. What are your thoughts about him?
RUSSELL: His sky hook was one of the greatest innovations in sports. There has never been anyone built quite like Kareem, and the shot's brilliance is that it is completely unique to his physical abilities and proportions.
SLAM: Elvin Hayes said that in his first game against you, he took a shot and you came out of nowhere and just crushed it. It really shook him up, but after the game you gave him some advice, which boosted his confidence.
RUSSELL: When a new big man came into the League, I wanted to make sure they knew I was around, and to establish that there were boundaries that should not be crossed. But I also wanted every player in the League playing as well as possible, because I wanted the League to be totally elite. It always made me feel good to hear people say, "The greatest athletes in the world play in the NBA."
SLAM: You bridged generations, finishing your career against Hayes after starting against pioneers like Dolph Schayes. Why was he so good?
RUSSELL: He was completely tenacious. He worked as hard as anyone. One story stands out: One time he got submarined and broke the wrist on his shooting hand. When the doctor cast it, Dolph had him leave his fingers out. He never missed a game, and neither his shooting percentage nor his scoring average went down.
SLAM: What defined Bob Pettit's game?
RUSSELL: He was a great, great player who came at you relentlessly. He was very aggressive, played really hard, knew what he could do and stayed within that. There are about a half dozen players who were extraordinarily competitive and he was one of them, along with Michael, Bird, Magic, Wilt and Oscar, who was probably the most competitive of all.
SLAM: What was it like to play with Cousy?
RUSSELL: It was easy, because not only was he a great player, but the things he did were completely in sync with what I did. He would transition from defense to offense as his guy went to the basket, because he knew I'd take care of him. I knew which way he'd force him, and I'd be there waiting while also cutting off his passing lanes. Meanwhile, Bob was heading downcourt, so we'd take control of the offense while the other team still had the ball. Nobody had done that before, because they didn't have the ingredients, namely a great rebounder and defender to grab the ball and turn it around, and a fast, in-control guard to throw to.
SLAM: As much as your style of play changed the center position, was there anyone who came after you who captured your style?
RUSSELL: Maybe it's egotism, but I have never seen another player who even approached the way I played the game in terms of depth. I've never seen anyone do the number of things I do well.
http://alanpaul.net/wp-content/uploads/2018/04/bill_russell_lifetime_achievement_fb.jpg
720
1280
AlanPaul
http://alanpaul.net/wp-content/uploads/2014/03/alan-imus-300x158.jpg
AlanPaul
2018-04-17 18:03:32
2023-05-24 12:49:00
An interview with Bill Russell