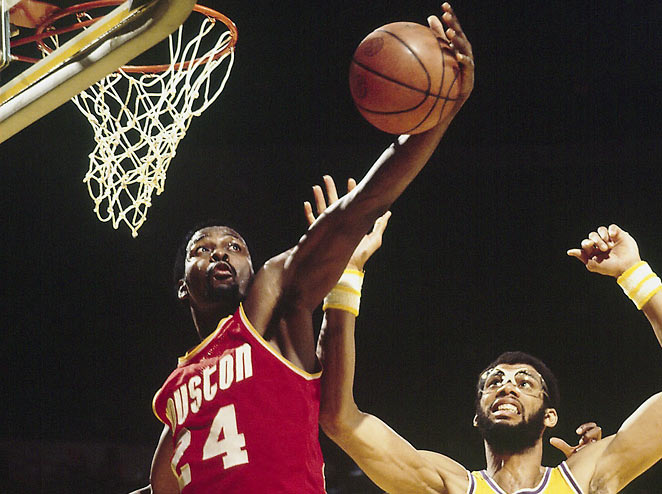 I was really sad to hear that Moses Malone passed away in his sleep last night. He was just 60 years old. It's really odd and extra discomfiting that he died so shortly after Darryl Dawkins.
I interviewed him for Slam, circa 2004. He was kind, funny and quite easy to talk to. Here is that story, unedited.
•
As the first guy to go directly from high school to professional basketball, way back in '74, Moses Malone would be a legendary, landmark figure even if he had been a failure. Fact is, though, he was one of the four greatest centers ever to play, and he remains the greatest straight-to-pros player ever, at least until Kobe or KG proves otherwise.
Malone was a three-time MVP, a 12-time All Star, one of the 50 greatest Players in NBA History (as selected by the league in 96) and a shoo-in Hall of Famer. In the heart of his career, he amassed an amazing 11 straight seasons averaging better than 20-10. Counting his two years in the ABA, Moses scored 29,580 points in 21 seasons, sixth on the all-time list behind Kareem, Karl, Wilt, MJ and Doc. He also grabbed 17,834 boards, less than only Wilt and Bill Russell. He's also second in free throws made and attempted, fourth in minutes played and fifth in games.
Still, he's been somewhat overlooked, perhaps because he wasn't a larger than life figure like Wilt or Shaq, an iconic cultural figure like Kareem or the core of a dynasty like Bill Russell. He also spent little time currying the favor of reporters, seemingly happy to let his game speak for itself, content in his blue collar image.
"I came up in a small town ghetto and I never did think I'd be a celebrity or famous athlete," says Malone, who now lives in Houston. "I was just loving to play the game of basketball. And I worked hard at everything I did."
Malone's Petersburg High won 50 straight games and two state titles. He was probably the most highly recruited basketball player ever. A New Mexico assistant supposedly lived at a Petersburg Howard Johnsons for two months hoping to land Mo, who eventually signed with Maryland only to jump right to the ABA's Utah Stars. The NBA prohibited high school students from entering, but the struggling ABA had no such issues. The 6-10, 210-pound manchild averaged 17.2 rpg and 13 rpg and shot 55 percent in two years in the league, before passing through the Buffalo Braves and landing in Houston. He elevated from great to superstar in his fifth season, 78-79, when he put up 24.8 ppg and 17.6 rpg and won his first MVP. By then, he had put on at least 20 pounds and eventually he would top 250 pounds, though almost until the end he maintained the quickness and agility that allowed him to be such a dominant rebounder.
Big Mo secured his place in history in 83 when was traded to Philly and finally led Dr. J to the promised land of a title, to which he had come tantalizing close in previous years. That team demolished the league, going 65-17 and only losing one playoff game and Malone was the MVP of the both the regular season and the Finals.
Malone hung on until 95 but his last three years as a journeyman center did nothing to diminish a great career, one that he says included inventing the alley oop with John Lucas.
SLAM: You hold the record for offensive rebounds in a season. What was the key to your success there?
MALONE: To be a great offensive rebounder, you have to think like a defensive rebounder and battle for position while also being in the flow of your offense. And then it's just being determined. You got to work hard whatever you're doing and try to be number one and take pride in what you're doing. You want to be at the best at your spot then you got to work hard, man. A lot of guys don't work as hard as it gonna take.
SLAM: When did you first start realizing you had the potential to become a great basketball player?
MALONE: Pretty fast. I had God given talent. No one taught me this game. I taught myself and I did it because I loved the game. I wasn't playing for no big money. I was playing for orange juice. I started playing ball when I was 13 and a half. Before that, I just wanted to play football and baseball but I kept growing so I figured it was time for basketball. Then I was on the playground all night. I ain't never go to parties or nothing. I'd get out of school at 3 and be out there playing until one in the morning with one streetlight. For real.
SLAM: Is it true that kids on the playground wouldn't let you play unless you agreed to not enter the lane?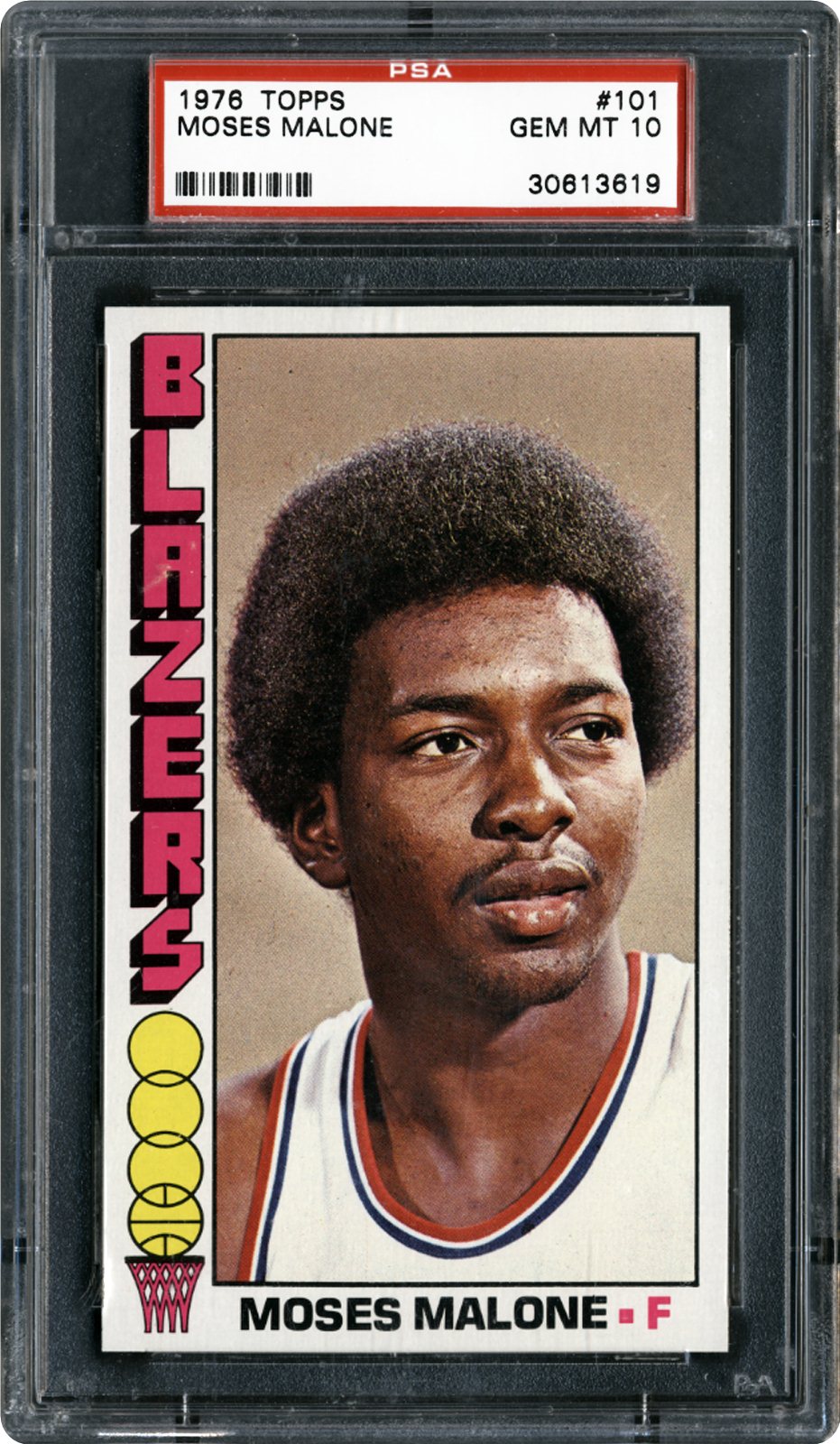 MALONE: Oh yeah. When I was 15, they changed the playground rules because I was dominating everything and blocking everything that came my way. I had a lot of skills and I played strong, which goes to my friend Babyhead. He was about four years older and he was always picking me for his team and he was always on me to be hard at all times. Every time I went to the hole, he wanted me to dunk. He'd go, "Young fella, I picked you because you're the best. I know you're just 15 but you come to play. And you have to bring it every game."
In high school, my coach had this philosophy too. There were always two guys checking me at least – sometimes three out of five. I would get real frustrated but he always told me it would make me better in the long run and it really did. II had to get around two guys to score or get a rebound every game my last two years in high school. It made me stronger and tougher.
SLAM: You were the first player to go directly from high school to professional ball. Did you ever think it would become so commonplace?
MALONE: No. They might as well just shut down college ball now. [laughs] Now guys become first round picks and make all the millions without really proving themselves. Are they gonna go all the way down to elementary school looking for kids who can jump high? The real question is this: do you have it in your head or heart to be great? To work hard enough to be what you can be? That's hard to see, but I think the problem is these so called scouts don't know what they're looking at.
When I came out of high school I was getting 38 points, 16 rebounds and 10 or 12 blocks a game. If they put my numbers up there next to Lebron James, I was doing more damage. Maybe I could have gotten a billion-dollar shoe contract. [laughs] But I don't fault none of these kids. They got to say yes. If you don't take it, I'll put these size-16 shoes in your butt my own self. [laughs]
SLAM: What is the hardest adjustment in going pro at such a young age?
MALONE: I always was confident, but I had guys looking out for me and that's real important. Got to have that, not just people looking for a gravy train. Then you're in trouble, because you're not man enough to understand what's going on. I had my agent up in Washington DC, who's still with me, and my teammates took me under their wings, especially Ron Boone, Gerald Govan, Wali Jones and Roger Brown. They brought me up just like I was their son and they really taught me how to grow to be a man in life and how to prepare yourself for every game.
Ron Boone was like a father to me. He saw that I needed guidance and he gave it to me, helped me mature as a person. He took me home and his wife cooked me many meals, made me feel comfortable, and I could talk to them about everything in life.
One thing for anyone coming in but especially the kids: you can't be afraid. You got to be determined that you want to be the best, but you don't have to talk about it. You see someone talking about how great they are, they ain't great. When I played, I never talked about what I was gonna do. I just did it.
SLAM: Maybe that's why you've been underrated.
MALONE: Well, someone's been misrepresenting me I guess. Because I'm the only high school player who ever got three MVPs, 21 years and the Hall of Fame. I'm everything they thought I shouldn't have been and wouldn't be.
SLAM: Who guarded you the toughest?
MALONE: Artis Gilmore. But then there was Kareem Abdul Jabbar, Bill Walton, Robert Parish, Dave Cowens and even Swen Nater, who no one remembers. Every center in the league played me tough. There was never an easy night so you had to prepare every game, figure out their strong points and weak points and try to take advantage of whatever you could. And you knew they were doing the same thing for you.
SLAM: Almost every team had a good to great center. Where have all they gone?
MALONE: They all retired now [laughs] They really only got two or three real centers in the league now: Shaq, Mourning, who's been sick, and now Yao Ming. You can't be a real center unless you want play around the basket and bang. Now you got 7-foot guys who want to finesse. Hmmph. They don't want to put on no hardhats and go to work. I don't care what people say: it takes a big man to know how to post up and it takes you a good guard to open it up for them. Look how the Spurs won. They had Duncan and Robinson and then one little guy every game: Kerr, Parker, someone. Without that little guy, everyone's gonna collapse on the big man, but without the big man that little guy ain't getting clean looks. Only team I saw win with two small guys was the Bulls with Michael Jordan and Scottie Pippen.
SLAM: You set a record by playing 1.046 games without fouling out, yet you were a very physical player. How did you do that?
MALONE: I was good to the referees. [laughs] I knew them all. They got to call the game and you have to respect them. They make some bad calls, but never embarrass the referee. They got to do the work so once they make a call, let it be.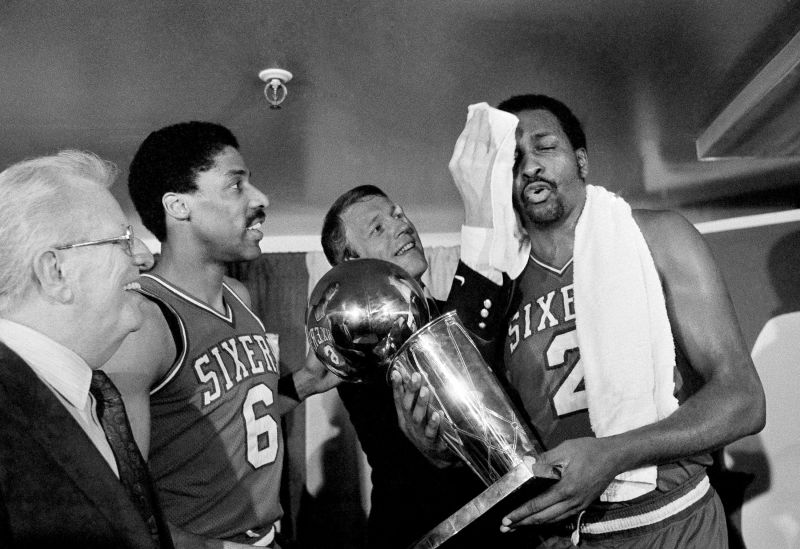 SLAM: You came to Philly and Doctor J finally got his ring.
MALONE: That was Dr. J's team. I was just a piece of the puzzle. It was a great, great team before I got there. They had Doc, Andrew Toney, one of the best shooters ever, Maurice Cheeks, a great point guard, Bobby Jones coming off the bench as one of the best defenders in the League. And lots of role players like Clint Richardson and Marc Iavaroni.
SLAM: Right., But they were a great team who couldn't quite win a title.
MALONE: Yeah, yeah. They needed me – but I needed them, too. Doc was one of the greatest players ever, no doubt, and I always thank him for giving me the opportunity to win a championship.
SLAM: At the start of the playoffs, you said you'd win it in "Fo, Fo, Fo." Doc said you didn't mean that would sweep every series, that you were just saying that's how many games you needed to win it all.
MALONE: No, no. I wanted a sweep. Three sweeps, actually, and we almost got them. We did Fo, Five, Fo. I wanted to start summer early and Fo, Fo, Fo sounded good to me. I knew with the players we had that we were going to win and I didn't see no reason to play extra games.
SLAM: You also had some great teams in Houston, going to the Finals once and playing with some great, underrated players. Let's talk about them, beginning with Calvin Murphy.
MALONE: Murphy was probably the best pro shooter that I played with. Toney's the only other one in his league. That gave me room to operate and also Murphy was a tough little guy. Oh yeah!
SLAM: Rick Barry
MALONE: Rick Barry could shoot the three and keep you open, too and also make some great passes. He was determined to win, always came with the focus on victory.
SLAM: John Lucas.
MALONE: John was a good penetrating guard who always go the action going.. He'll make you play. Luke wanted to win and he was a very exciting guy. And I'll tell you something, him and me were the first guys to come up with the alley oop. We invented that. See, everyone played me real hard up top to keep me from getting the ball, so Luke started tossing it over them so I could leap up and grab it and just put it through. When we first did it, the other teams would scream that it was goal tending, because they thought Luke was shooting. Now it's become a regular play, but no one knew what it was when we started.
SLAM: You were traded to the Sixers after winning your second MVP. How could anyone trade a guy who just averaged 31.1 ppg and 14.7 rpg?
MALONE: Simple. I was a restricted free agent and they didn't want to pay the money. Now they're paying everybody but it came down to dollars and cents. Hey, I got traded from the Sixers eventually, too. Everybody can get traded, man.
http://alanpaul.net/wp-content/uploads/2014/03/alan-imus-300x158.jpg
0
0
AlanPaul
http://alanpaul.net/wp-content/uploads/2014/03/alan-imus-300x158.jpg
AlanPaul
2015-09-14 02:58:08
2016-06-16 20:07:58
RIP Moses Malone