Chocolate Thunder – the Slam interview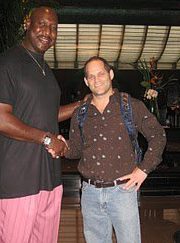 Posting the picture of me and Darryl Dawkins in the Shanghai Ritz Carlton lobby in 2007 on Facebook generated a lot of feedback and prompted me to dig this Slam feature out of the archives. I think it's a classic of my oeuvre.
It ran in approx. 2000 and I reran it here on Halloween, 2007. Enjoy.
*
Darryl Dawkins is a patron saint of Slam, because he is a patron saint of slam. The National Dunker's Association of America named Dawk to it s list of 30 greatest slammers of all time, but he may well rank at the very top of the list, above even Mike, 'Nique and Doc.
Like them, Double Dee was a pioneer, the first baller to do many things that we now hold near and dear to our hearts. He was the first to shatter a backboard. The first to name his jams. The first to go directly from high school to the NBA. The Chocolate Thunder was also the first NBA player we know of to claim he was actually an alien from the planet Lovetron. It all added up to him recently being named "Man of the Millennium" by Saturday Night Live, edging out William Shakespeare and Albert Einstein.
But to explore that avenue any further would be to propagate the idea that Dawkins is some kind of joke, a hoops freak show to be laughed both at and with. And that's too easy a path to take. Because something can be funny without being a joke, and that's exactly the case when it comes to The Master of Disaster, Darryl Dawkins.
In 1975, Dawkins, a senior at Maynard Evans High School in Orlando, FL, announced he would go directly to the NBA to the snickers of many. Drafted fifth by the 76ers, Dawk did not set the league on fire his rookie year, averaging just 2.4 ppg. Still, he quickly developed into a solid low post contributor and by his second season, the Sixers were in the Finals, where they lost to Bill Walton and Maurice Lucas's TrailBlazers. Dawkins and the Sixers would return to the Finals twice more only to lose. Fact is, they could- shoulda won either or the '81 and '82 series against Magic's Lakers, which would have radically rewritten both the history of 80s hoops and Dawkins' place in the basketball cosmos.
"Dawkins was an incredible physical specimen,' recalls Bob Costas." He was 6-11 and 275 pounds and no one had ever seen anything like him to that point. He was a manchild and everyone was actually terrified of him."
Including the refs, who never gave the benefit of the doubt to the bad-ass-looking guy swatting shots, glaring down opponents and occasionally delaying games for hours while new backboards were installed. Dawkins led the league in fouls three times and still holds the record for most personal fouls in a season (386). By the end of his 14-year career, Dawkins relied largely on his muscle and ferociousness, a natural evolution for a guy who never met a confrontation he didn't relish. But Dawk was no mere thug. He is the fifth most accurate shooter in NBA history with a field goal percentage of .572.
Post-NBA, Dawk spent five years playing in Italy and one as a Harlem Globetrotter. Now he has defied virtually all expectations by becoming a very successful minor league coach. The last two years, he has coached both the Pennsylvania Valley Dawgs of the U.S. Basketball League and the Winnipeg Cyclones of the International Basketball Association, for whom he also played last year. He has been coach of the year in both leagues.
Prowling the sidelines at a recent Valley Dawgs game, Dawkins cuts an imposing figure in his mustard suit, gold hoops dangling from both ears, his chocolate dome shaved smooth. On the court, his squad runs and presses mercilessly, driv
ing their opponent into submission. Despite a commanding victory, Dawkins is stern in the postgame locker room, saying, "If the big guys can't get it done, I'll go out and find me some who can." He doesn't rule out suiting up himself to show the youngsters how it's done.
Afterwards, in between flirting with departing dancers and making friendly, funny small talk with everyone from the Valley Dawgs owner to their ball boy, Dawkins gave some love to the only magazine that could ever truly appreciate his brilliance.
SLAM: You have a lot of nicknames, but the most enduring is Chocolate Thunder. Where did it come from?
DAWKINS: A kid I visited at Children's Hospital in Philadelphia said I was like a mass of chocolate, so I started calling myself Chocolate. Then Stevie Wonder wrote a song that said, "I'm bad like Stevie Wonder and strong like Chocolate Thunder" and I loved that. So I've been the Chocolate Thunder ever since.
SLAM: When did you start naming your slams?
DAWKINS: In 1976 when I wound up on the Sixers team with George McGinnis, Dr. J, World B. Free and Doug Collins. That was a great, great group of players and I needed to do something so people would know I was on the team too. So I decided to name my dunks and have a calling card.
My first one was "Your Mama," then came "The Heartstopper," "The Cake Shaker," "The Baby Maker," "The Turbo Sexaphonic Delight" and "The Left Handed Slam Chiller's Delight." Then "The Chocolate Thunder-Flying Glass-Babies Crying-Rump Roasting-Bun Toasting-Teeth Shaking-Babies Still Crying-Wham Bam Thank You Ma'am-Yes I Am – Jam."
SLAM: What was the best one ever—not the name, but the slam.
DAWKINS: "Your Mama" [laughs] I always liked that because if some guy tries to block your shot and throw it down on him, you just look him in the eye and say, "Your mama." Simple but effective. Really, it doesn't get any better than that.
SLAM: Were your backboard smashings intentional?
DAWKINS: The first one I broke was accidental. Then I had to see if I could do it again so the second one was quite intentional. Once I found out I could, I was actually going to do it some more, but they said they were going to fine me $5,000 every time I broke one after that. And that put an end to that.
SLAM: Besides, they made the breakaway rims, which is one of your great contributions to the game.
DAWKINS: They can still be broken! I broke two in Italy. You just have to dunk it from the side. It collapses from the front, but not from the side. If you hit it hard enough from the side, it will go, as I have proven.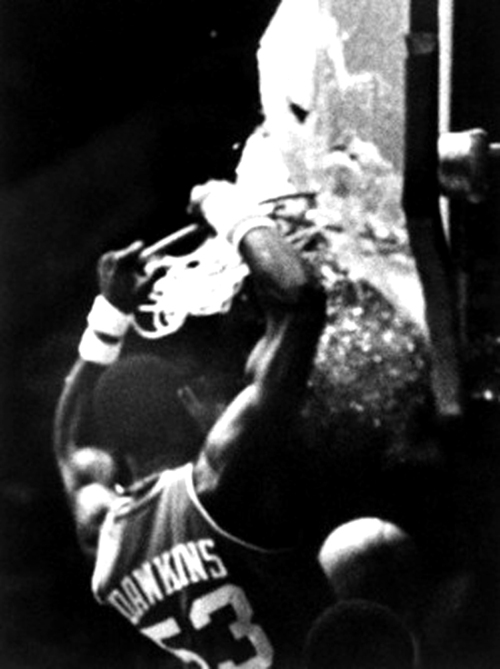 SLAM: Do you see any current players following in your large footsteps?
DAWKINS: Take the strength of Shaquille O'Neal and put it together with the freedom of Dennis Rodman, and you have the Chocolate Thunder. Like Rodman I was going to do what I wanted to do and I wasn't going to let anyone control me, which is what the Sixers and other teams tried to do. They wanted to tell me where to go when and with whom and I didn't want that.
SLAM: Is that part of the reason you decided to not go to college?
DAWKINS: No, I actually wanted to go to college but my family was in financial difficulty. I was able to do things to help them out. I had seen my mother and grandmother work their fingers to their bones and I could end that. I was able to put brothers and sisters as well as cousins through college, instead of just going myself. That's why I took that route. As far as not wanting to be controlled, let me make this clear: I didn't want to just do the wrong thing. I just wanted to make my own decisions and not have someone dictate to me: "You are gong to do this, because we want you to." That's not a good enough reason.

SLAM: When you went pro right out of college, could you ever have imagined that it would be a common occurrence 25 years later?
DAWKINS: No, because it was unheard of at the time. People thought I was crazy because I was the first one with the audacity to try. Moses [Malone] went to the ABA the year before, but that was different. Nor did I think I would ever be coaching, but you never know what lies down the road.
I think the only reason you go to college is to get a good education and make good money to support your family. If you can make the money right then and still get an education on your own schedule, you got to go for it, because it's your dream. What happens if you get in a car accident and never get to the pros? What happens if you blow out your knee? If you have the skills and it's your dream, you go to go for it.
SLAM: But what gave you the confidence to think you could play against Artis Gilmore and Kareem Abdul Jabbar just because you could dominate in high school? That's a huge leap.
DAWKINS: I believed in myself. I had six brothers and four sisters and growing up in a big family like that I learned that there's nothing that can't be done if you work hard enough for it. It had never been done before in the NBA but I really believed I could do it. I just felt that I could. I had a lot of confidence and my pastor, Rev. W.D. George, believed in me, as did my mother. And they were just about the only ones besides me who believed I could pull it off. A lot of people I grew up with said, "You'll be back home standing around here in a year or two." Well, it's 25 years later and I'm still not back in Florida.
SLAM: That Sixers team you came on to was loaded with great players.
DAWKINS: We had so much talent that we actually forgot we had to play some nights. Look at who we had: Julius Erving, who was Michael Jordan before Michael Jordan; George McGinnis, an incredible player. Doug Collins, a super talented super guy, and World B. Free – one of the best shooters ever.
SLAM: Yet as good as the team was, you never won a title.
DAWKINS: I just think when we played Portland and LA, they were better teams. You just have to realize that. Everyone thought we should have won a championship, but we met our match. They also had great talent, but played more unselfishly, with more of a team concept.
SLAM: Were you surprised when Maurice Lucas took you on in the middle of a scuffle with Bobby Gross, another Portland player?
DAWKINS: No. I was surprised that my teammates let him approach me from behind. He hit me from behind, then we squared off but never got a chance to go because everyone separated us. Then I turn around and Julius is sitting on the ground and George McGinnis is picking his nose. If someone's running up behind my teammate, I'm going to grab him or do something to stop him. But I don't carry any grudges about that. It was a long time ago.
SLAM: Let's talk about what made those guys so good, starting with George McGinnis
DAWKINS: He was big, strong and quick. And he knew the game. He had a great one-handed shot.
SLAM: What was Doug Collins' game like?
DAWKINS: He was great, a very underrated player. Doug was a tremendous force in college and he would have been as a good as Larry Bird if it weren't for injuries. He had a bum arch in his foot and kept getting hurt, but he was a Bird type of player. He could run and jump, shoot and pass and rebound. And he could play great defense, which a lot of big guys today don't do.
SLAM: What about World B. Free?
DAWKINS: World B. Free is still my brother, and he was the original Boston Strangler. I often hear people say Andrew Toney is the best shooter they ever saw, but World was better, man. He and I played one on one every day after practice and he helped me a great deal with my ballhandling skills because he would take it from me every time I put it down.
He also showed me one of the great keys to my game. One night, he took it down the middle and dunked on Bill Walton, a great shot blocker, and I said, "Damn, man, how did you do that?" And he said, "You can do it, too." And I went out and I dunked on Walton myself. After that I started dunking on everyone, with no fear. It was just a matter of having the confidence to go try it, and World B. Free showed me that. For that, I am forever grateful.
SLAM: How good was Walton in his prime?
DAWKINS: Bill Walton was a great player, but his supporting cast was also incredibly strong, which made him better. He was surrounded by guys who just wanted to win and didn't care who scored. And that's why they won. LA was the same way – only a few guys had to have the ball. Everyone else played a role. Everyone on our Sixers team wanted the ball all the time, and that hurt us. We had guys who had to be scoring to be happy. And that makes a big difference.
SLAM: Was that frustrating?
DAWKINS: At times, very much so. Because you had to do what the stars didn't do, and you didn't know what that may be on any given night. One night somebody's shot's not falling so you have to go score. Another night, you just need to rebound and play d.
SLAM: You were briefly with the Pistons.
DAWKINS: Yeah, I played with Rodman and Isiah and them for a bit. I thought they got rid of the most talented guy on the team in Adrian Dantley. He did it all, but if you didn't get along with Isiah Thomas, you didn't stay in Detroit. That's a fact.
Rodman was just becoming a force on the boards, and John Salley was also a talented guy. He wasn't too tough but he could score and block some shots. And Rick Mahorn and I have been buddies forever and we still are. When I played with the Nets, Rick and Buck Williams got in so many fights that Larry Brown would always switch me onto Rick because he knew we were friends and we wouldn't fight. Buck was getting thrown out of every game, because Rick would just knock the crap out of him and drive him nuts. And Buck was a tough guy himself.
SLAM: Now, I know you're buddies with Rick, but was he a cheap player?
DAWKINS: He was a nice guy. Honestly. Everyone misunderstood him. We always had a good time. In fact, I always used to call his mother, God Rest her Dead, "Mama Mae Mahorn" after a dj on Kiss FM and we always joked about that on the court. I never thought he was cheap. I thought he did what he had to do to be where he wanted to be.
SLAM: What about Laimbeer?
DAWKINS: Cheap.
SLAM: Meaning what? Would he hit you from behind before you could turn around?
DAWKINS: I used to get him from behind. I'd get him before he could get me. Once when I was with the Nets, I gave him a kidney punch and he went down. [Referee] Jake O'Donnell said to me, "Darryl, if you hit the white boy again, you're out of the game." After that, Bill was a little afraid of me, because I was pretty physical myself. So he kept his distance. But, hey, there was more to him than that stuff. He was a good, heads-up player. He knew just what he could do to get inside someone's head, but I never let him get into me.
Look at Dennis Rodman. He got in everyone's head, but he didn't bother Charles Barkley. He didn't bother Charles Oakley. And he wouldn't bother me, because he knew we didn't give a fuck. We'd just turn around and brawl with him. Other guys would want to try and stay in the game but we didn't give a fuck. And if you have that going for you, no one's starting anything, believe me.
SLAM: Were there any guys you knew not to mess with?
DAWKINS: I don't fear anyone, and I never did. Even now, I don't fear a saber-toothed tiger; I just don't fuck with one. And I'm not alone. There are lots of guys who have never been scared of anyone. You just do what you got to do to take care of yourself. The guys who play today want to shoot each other and cut each other and all this if there's trouble on the court, but that's crazy. We fought each other hard, wrestled each other. And in the end, we all got together and had a beer. That's a big difference.
SLAM: Were there guys who you knew once good forearm would take them out of the game?
DAWKINS: Yeah, but I don't want to do that to them. They know who they are. Guys who you hit them at two feet, they go to four. You hit them at four feet, they go to six. They were easy marks.


http://alanpaul.net/wp-content/uploads/2014/03/alan-imus-300x158.jpg
0
0
AlanPaul
http://alanpaul.net/wp-content/uploads/2014/03/alan-imus-300x158.jpg
AlanPaul
2014-06-16 20:44:41
2014-06-16 20:46:30
Chocolate Thunder – the Slam interview