In honor of seeing Bill Kreutzmann's Billy and the Kid slast night in Philly and tonight in Port Chester… and of having just finished his memoir, Deal: My Three Decades of Drumming, Dreams, and Drugs with the Grateful Dead… and of reading now the excellent upcoming book So Many Roads: The Life and Times of the Grateful Dead… I present the following:
Once upon a time, Guitar World did an issue dedicated to 1969, proclaiming it the best year in rock history. I contributed plenty of pieces, and will be digging up and posting some. Here, I took a look at the Grateful Dead's two great 1969 albums, Aoxomoxoa and Live Dead.
****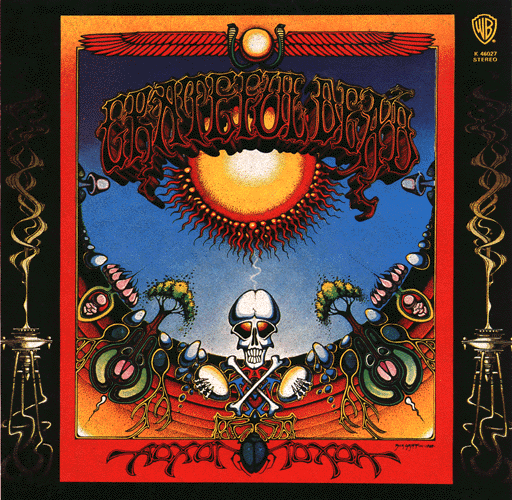 The Grateful Dead released two very different albums in 1969. Aoxomoxoa, released in June, struggles to create a psychedelic experience, vainly attempting to recreate the tripped-out vibe of the Dead's live shows. Live Dead, which came out in late December,skips the artifice and dives right into the belly of the beast, proving an obvious truth: the best way to capture the feel of a live show is to record some live shows.
Despite their differences, the two albums were recorded at virtually the same time and were viewed by band members as being two sides of the same coin. "Live Dead was recorded about the same time we were working on Aoxomoxoa," Jerry Garciatold Rolling Stone in a 1973 interview. "If you take them together, you have a picture of what we were doing at that time."
Aoxomoxoa continues down the same path as the band's previous album, Anthem of the Sun, with the Dead spending copious amounts of studio time and money weaving odd, drug-fueled sonic tapestries.
"Aoxomoxoa is really a continuation of Anthem of the Sun …in the sense of having a complex record," Garcia explained. "When we started, Aoxomoxoa was an eight-track record, and then all of a sudden, there was a 16-track recorder in the studio, so we abandoned our eight-track version and started over with a 16-track. At the time, we were sipping STP [a sort of supercharged LSD, which produces 72-hour trips] during the sessions, which made it a little weird – in fact, very weird."
In a 1978 interview with writer Blair Jackson, Garcia again spoke about the band's drug use during the making of Aoxomoxoa. Trying to explain one of the album's craziest tracks, he said, "If you want to make 'What's Become of the Baby' work, I'll tell you what to do: get a tank of nitrous oxide. All of a sudden it works! When we were doing our mixes on that we had a tank. We were all there with hoses. All kinds of weird shit was happening, it was totally mad, total lunacy.
"I like that record, personally, just for its weirdness. There's a certain feeling and a certain type of looseness that I kinda dig. That was one my pet records 'cause it was the first stuff that I thought was starting to sound like how I wanted to hear songs sound. And the studio [experimentation] was successful."
Despite Garcia's optimism, even the most hardcore Deadheads do not consider the album a catalog highlight. It is significant for several reasons, however. Most notably it marked the first album consisting entirely of songs co-written with lyricist Robert Hunter. However, his songs had not yet matured into painting vivid pictures of a slightly surrealistic Western landscape. In fact, the songs on Aoxomoxoa are as spaced out lyrically as they are sonically.

"Hunter and I were both being more or less obscure," Garcia explained to Rolling Stone. "There are lots of levels on the verbal plane in terms of the lyrics being very far out. Too far out, really, for most people."
Too far out even for some of Garcia's bandmates, evidently. "A lot of that record is gratuitous and complex for the sake of being complex," guitarist Bob Weir told Melody Maker in 1974. "It was over-produced and over-arranged."
The band spent almost eight months in the studio working on the album, which didn't sell very well, leaving them in debt to Warner Bros to the tune of $180,000. Meanwhile, while they were struggling to capture their psychedelic visions and create elaborate sonic journeys on studio tape, on stage the Dead were doing so with ever-greater ease and frequency. A key advancement was their new practice of stringing songs together into one continuously moving, evolving whole, linked by shifting rhythmic passages. It would remain a trademark throughout their career, but the technique was just being perfected in '69.
Armed with a new 16-track recorder (one of the first made by Ampex), the band began recording shows, capturing this new approach in all its glory. The result was Live Dead, unquestionably one of their recorded highlights. The double album audaciously began with a side-long track, the 23-minute "Dark Star," an exploratory, ever-shifting sonicscape in itself. Side three was devoted to an extended workout of "Turn On Your Lovelight," arguably the recorded highlight of Pigpen McKernan's tenure with the band.
"We only recorded a few gigs to get that album," Garcia recalled. "We were after a certain sequence of the music. It's our music at one of its really good moments."
Also notable on the album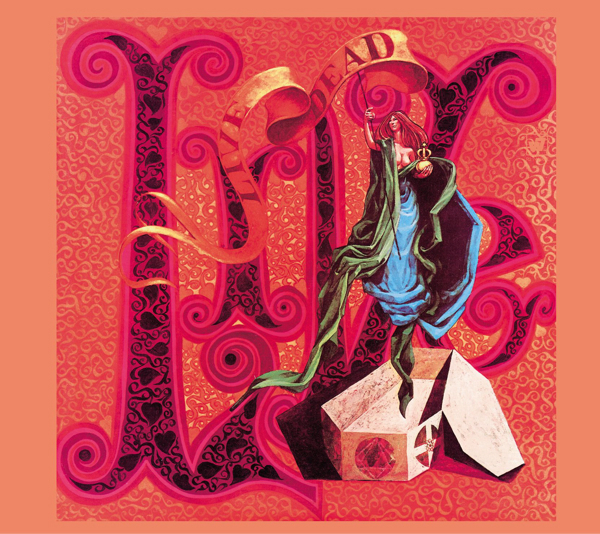 is Weir's emergence as a musical presence. For the first time, his distinct rhythm playing makes itself known, as he plays bizarre chordal counterpoints to Garcia's leads and Lesh's basslines, as well as odd fills and quirky motifs.
"He's an extraordinarily original player in a world full of people who sound like each other," Garcia said of Weir in a 1982 with The Record. "I don't know anyone else who plays guitar the way he does, with the kind of approach he has to it. That in itself is, I think, really a score, considering how derivative almost all electric guitar playing is."
Another strength of Live Dead is the way it captures the band playing through complicated passages, most notably on "Dark Star" and "The Eleven" (so named for its odd 11/4 time signature) with ease and loose-limbed precision. It was, contrary to popular opinion, the product of many hours of rehearsal time, according to Garcia.
"You can't play confidently and fluidly in those [odd time signatures] without really knowing what you're doing… without working at it," he said in The Record. "It's not something that just happened to us. There was a long, slow process that really brought that into being."
It was a process, which reached its fruition on Live Dead, the ultimate chronicle of the early-era Grateful Dead.
http://alanpaul.net/wp-content/uploads/2014/03/alan-imus-300x158.jpg
0
0
AlanPaul
http://alanpaul.net/wp-content/uploads/2014/03/alan-imus-300x158.jpg
AlanPaul
2015-03-27 12:51:23
2015-03-27 14:04:07
Grateful Dead 1969: The Making of Aoxomoxoa and Live Dead