Reckoning: Conversations With the Grateful Dead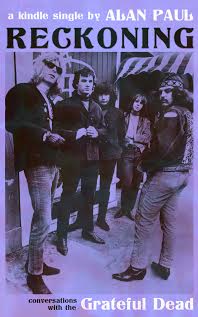 I'm very proud about my new Ebook, Reckoning: Conversations With the Grateful Dead and hope that you will check it out.
The book includes interviews with Bob Weir, Phil Lesh, Phil and Trey Anastasio together,Robert Hunter, Bill Kreutzmann, Warren Haynes, Dick Latvala, John Kadlecik, Steve Kimock and Mark Karan and many more.
It also includes wonderful photos by Kirk West and Bob Minkin – and it costs $2.99!
Great Dead scholars like Dennis McNally, David Browne and Peter Richardson dig the book – and you will, too.
"I suspect that it is his intimate association with another band, the Allman Brothers, that has given Alan Paul his knowledgeable but balanced view of the Grateful Dead. He's been one of the leading G.D. observers for years, as this collection proves – connected but not caught up in the mythology. Anyone who wants to know the post-Garcia Dead should read this book."
-Dennis McNally, Grateful Dead publicist and historian, Author of A Long Strange Trip: The Inside History of the Grateful Dead
"From how songs were written to how disagreements were settled, Alan Paul asks the type of questions every Deadhead wishes he or she could ask of their favorite band. And even better, Alan elicits the honest answers every fan wants to hear from the Dead."-David Browne, author So Many Roads: The Life and Times of the Grateful Dead
"I've read hundreds of Grateful Dead interviews and the ones Alan Paul has collected here as a smart, fresh, honest, and musically astute as any I've seen. His exchanges with Phil Lesh, Bob Weir, Robert Hunter, and Bill Kreutzmann complement and update earlier collections and enrich our understanding of the Dead, their project, and their legacy. Insights from Trey Anastasio, Steve Kimock, Mark Karan, John Kadlecik, Warren Haynes, Jimmy Herring, and Dick Latvala only sweeten the offering. Required reading for Deadheads–and for anyone who still harbors doubts about the Dead's achievement."
-Peter Richardson, Author, No Simple Highway: A Cultural History of the Grateful Dead
"Alan Paul is the rarest kind of music journalist….one who hears beyond the supposed barriers of tradition, style, era, and genre, and perceives the connections and archetypes at the root of all great and innovative music.  And then he succinctly lays his discoveries at our feet, so that we may hear beyond the illusions too."
-Reed Mathis, bassist, Billy and the Kids, Tea Leaf Green
The book begins with a new essay, The Music Never Stopped. The intro to the intro:
This story begins at the moment when it seemed that it was ending: August 9, 1995. Every interview in the pages that follow was conducted after Jerry Garcia died. After it seemed inevitable that the long, strange trip was over. A Grateful Dead without Uncle Jerry was unthinkable – most importantly to the band members themselves.
"We had a meeting where names of people who could step in for Jerry were being discussed, and I just said, 'No way,'" drummer Bill Kreutzmann says in a 2015 interview that opens this collection. "My feeling was that I didn't make this decision; Jerry did."
Bassist Phil Lesh also thought that not only was the band done, but so was his time playing the music of the Dead's rich, 30-year catalog. "I thought I was done with it and with rock and roll," Lesh told me in 2002. "I had this idea that I would find closure with the music by composing a 45-minute symphonic canvas utilizing Grateful Dead song themes, melodic hooks, rhythmic grooves and chord sequences.
"Then I went out and played a benefit concert with these Bay Area musicians who had continued to be so influenced and sparked by the music. I was blown away realizing the vitality that remained there and I thought, 'Maybe there's not supposed to be closure.'"
Lesh's search then pivoted 180 degrees to the very opposite of closure: an open-ended exploration of the Grateful Dead's music that has not let up in the ensuing years. Every surviving member went through a similar process of discovery, of realizing and coming to grips with the impact that their music had and the vitality it retained.
http://alanpaul.net/wp-content/uploads/2014/03/alan-imus-300x158.jpg
0
0
AlanPaul
http://alanpaul.net/wp-content/uploads/2014/03/alan-imus-300x158.jpg
AlanPaul
2015-07-03 21:20:16
2017-03-05 17:56:20
Reckoning: Conversations With the Grateful Dead