Metallica Meets Gov't Mule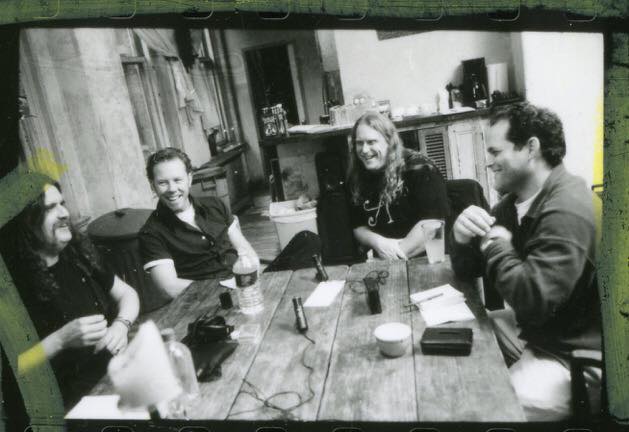 Dose, my favorite Gov't Mule album, was released 18 years ago this week. In honor, I present this classic Guitar World Dose interview with Warren Haynes, Allen Woody and Metallica's James Hetfield.
I hatched the idea for this piece on the Gov't Mule tour bus where I spent two long days… hanging out… with Warren and Woody in Ann Arbor, Michigan when they played the Blind Pig and Rick's American Cafe on consecutive nights. Looking up the dates just now I realized that the Pig show was on my fifth anniversary – February 27, 1997. How cool is my wife? She came with me to the show, heard how loud it was, kissed me on the cheek and headed home.
They told me on the bus that James Hetfield was a big fan and had recently come to a show in California. We were discussing how to convince my editors at Guitar World to do a bigger story on their second album than we had on their first, and I said, "Maybe we can get James involved." I had some history of such things with James – he interviewed Tony Iommi for Guitar World in 1992, a story I co-wrote with Brad Tolinski and which you can see here.
Within a few days, I had written a letter to Metallica's publicist, Hetfield quickly agreed, and the wheels were set in motion. The following December, with Dose due to be released, what follows went down  in New York City. Photographer Danny Clinch was hired, he rented a studio in Soho, where we did both the photo shoot and the interviews. This was the beginning of a long, fruitful relationshp between Danny and Metallica. (His relationship with Mule also began with Guitar World – with our 1994 Warren/Dickey Allman Brothers cover.)
This interview with James Hetfield and Gov't Mule was conducted in December, 1997 and became part of a Guitar World cover story. It was reprinted in the Guitar Legends Southern Rock issue, which is available in the GW Store, and which also included my history of the genre and my piece on the Allman Brothers band's At Fillmore East, as well as a fantastic Lynyrd Skynyrd story. I'm happy to launch this into the digital world. Enjoy. And, as always… Woody!
Kickin' Asses
Metallica's James Hetfield comes face to face with his favorite band, Gov't Mule.
James Hetfield enters the Manhattan photo studio, guitar case in hand, and strides across the huge, empty room. His face cracks open into a wide grin as he spies Warren Haynes coming towards him. Putting down the guitar, Hetfield throws his arms around Haynes and pats the guitarist's broad back. "Good to see you, man."
Across the room, Allen Woody sets aside the doubleneck bass he's been noodling on and comes over to shake hands with Hetfield. Pumping Woody's hand, Hetfield says, "It's great to meet you," with an enthusiasm you might not expect from someone who's sold over 35-million albums. "Man, Kirk and Jason were pissed when they heard I was coming down here to interview you guys. They both wanted to come along. They couldn't believe that I got to hang with Gov't Mule and they didn't."
Haynes and Woody, the objects of all this Metalli-fection, snicker and share a grin. Hetfield's genuine excitement proves to them what they've believed since the moment they formed Gov't Mule four years ago: they've got something special happening. For this is a band heavy enough to be Hetfield's favorite; grungy, gritty and bluesy enough to earn the praises of ZZ Top's Billy Gibbons; and swirly enough to speak loud and clear to the Phishheads who flock to their shows to twirl the night away. It's all displayed on Dose (Capricorn), the trio's second studio album, and a stunning instrumental achievement, on which Haynes fulfills all the guitar hero promise he displayed as a member of the Allman Brothers Band from 1989-97.
"Warren plays so much, and such cool stuff without ever sounding like he's showing off," marvels Hetfield. "It all fits in, and it all makes perfect sense." One reason that Haynes's playing always sounds so in sync is that as much as he is the featured performer, the Mule distinctly does not consist of a rhythm section playing a locked-in groove while a soloist goes off all night. Rather, they engage in endless three-way conversations, with Woody and drummer Matt Abts often speaking almost as much as Haynes.
"I constantly change directions in the middle of a solo because of something Matt or Woody plays," Haynes acknowledges. "They are definitely not just playing repetitive patterns while I solo. It's really pure, true group improvisation."
Haynes and Woody first developed their rapport as members of the Allman Brothers, the great group they helped to revive in '89. After eight years, the duo left the Allmans last spring to concentrate on the Mule, which was born in 1993, when Haynes, Woody and Abts first played together at a Los Angeles jam session. A year later, they played their first formal show, going on to do about 80 gigs in-between Allman Brothers tours before releasing their self-titled 1995 debut on Relativity Records.
Today, some 300 gigs later, the first album sounds like but a demo for Dose, the album on which the group's vision of a high-powered jam band playing progressive rock with jazz skill and subtly and heavy metal power comes to full fruition. The Mule's sound has deepened, expanding in almost every direction–becoming both bluesier and heavier, more expansive and tighter. From the proto-metal minor key riff of "Game Face" to the Miles Davis tribute "Birth of the Mule" and from the psychedelic freakout coda tagged onto the Beatles' "She Said, She Said," to the acoustic, Zeppelin-esque "Raven Black Night," Dose is a powerhouse, one of the boldest, most adventurous guitar records of recent years.
"There's a lot of range in their music," observes Hetfield. "But it always seems appropriate and it always sounds fuckin' cool." So it is that the Metallica frontman leaped at Guitar World's offer to interview the band, showing up filled with enthusiasm, loaded with questions and anxious to rap.
James, how did you first hear the Mule?
JAMES HETFIELD: We had an accountant named Kenny Silva on the road with us, who had been working with the Allman Brothers. He gave me a tape and said, "I think you'll like this. It's serious guitar music with a heavy Southern Rock vibe." I threw it in, and I just fell in love with it. Kirk got wind of it around the same time and also fell in love. It just hit us right away.
What attracted you so strongly?
HETFIELD: I'm not generally a big solo guy, because I'm not into showing off that way. But this stuff fit exactly with the music, and it just sounded like stuff I'd want to hear. In fact, it sounded like stuff I'd want to play. If I was playing lead, that is how I'd like to play–but I can't. That thought struck me right away: This is how I'd like to be able to play leads. So in a way, I feel like Warren's playing is my expression of a solo voice. And then you've got a kick-ass bass player playing chords–which is incredibly cool but is not allowed in our band. [laughs] We're like, "Jason, keep one finger right here and play."
So you and Kirk enjoy Gov't Mule together, but conspire to make sure Jason never hears it?
HETFIELD: [laughs] Exactly.
ALLEN WOODY: That's a good idea, James. I can give a guy a lot of bad habits if you're not careful. I tend to think I'm Leslie West with a bass.
Warren, what did you guys think when you first heard that the guys in Metallica were fans?
HETFIELD: [laughs] He thought, "Metalli-who?"
WARREN HAYNES: No, no. Believe me, I knew who you were. I thought it was really cool. I was happy to hear it. Any time somebody is into your band that's a good thing. And if they're in a really cool, really popular band, that's a better thing. I had heard their stuff over the years and was actually thinking of going to check out one of their Lollapalooza shows, so I was relieved when I heard that they dug us because I figured that would make it a lot less awkward than going backstage and having someone say, "Here's some guy from some band who wants to drink your beer." [laughs] Instead, I met them and they were super nice, and very flattering, which was great. I know where Metallica is coming from, and I don't think them liking us is as strange as it may seem to some people. First of all, our stuff is a little heavier than most people probably think. I don't classify it as hard rock, but everything we do definitely has a hard edge, and I think there are a lot of Metallica fans who would be Gov't Mule fans if they checked us out, though they don't know it. We're definitely not just for Allman Brothers fans.
James, do you think most Metallica fans would like the Mule?
HETFIELD: I think so. Without waving the guitar flag too high, there are a lot of guitar fans who like Metallica because there's a lot of crunching going on and a lot of guitars in your face. And I think the people who are attracted to Metallica for that reason will definitely dig Gov't Mule, because you talk about guitar in your face, this is it, man.
 James, you have told me before that you really dig Lynyrd Skynyrd, but never really got into the Allmans.
HETFIELD: Yeah, that's true. Actually, I went back and listened to a lot of the Allmans catalog to get ready for this, and I thought that a lot of it was very stiff. It is very jamming on the surface, but there are many things which can't really let go because you've got two guitarists and two drummers and a keyboardist. It will sort of go off on a jam for a while, but it doesn't just go crazy like some of the stuff in the Mule, which I love. Plus, of course, the Mule definitely has a rockier edge, everyone's covering a lot more ground rather than just playing their parts, and it is a lot more loose. Being a three-piece, it has to be.
HAYNES: Right. Because I'm the only chord, it's easy to just take off. I think the less people you have in a band, the easier it is to take off for uncharted territory. Because if you have three chordal instruments, the others have to either lay out or listen really, really closely to what one guy's doing.
WOODY: Obviously, it's a lot more dangerous to turn seven guys loose than it is three. With the Allman Brothers, you could get into trouble real fast if you got outside of the parameters, because of the two drummers and seven guys bubbling under everything. But with three guys, who's to say it's a mistake? If you can react, go for it. There's some really good moments on our records which were, in fact, mistakes.
HETFIELD: Just play 'em twice, and they won't be mistakes. That's cool. There is definitely some crazy stuff going on in the new album. For instance, on "Thorazine Shuffle" your drummer just goes fucking nuts at the end. Who's holding the beat?
WOODY: We are.
HETFIELD: Wow. That must have been pretty damn hard to play along with.
HAYNES: Yeah. Woody and I are laying the beat and Matt's soloing across it. I think it's very cool for the drummer to be set free from having to worry about holding down the beat every once in a while, though it's a little constricting to us. It was actually Woody's idea to give Matt a drum solo across that weird time signature. We were trying to figure out how to end the song and Woody said, "I think Matt ought to turn the snares off like Bill Bruford and play a drum solo across the outro and we'll keep the riff going." We tried it, and it turned out to be a cool thing. I think that's just one example of Matt playing incredibly cool stuff on this album. He tuned his kit higher this time than on the first album, where he had more of a bottom tuning. As soon as he did that, his drums rose above the thickness of the guitar and bass and really altered our sound a lot.
WOODY: When we recorded "Thorazine Shuffle," we were all within five feet of each other, with our amps off in some other room. That's something we've always done, because you really have to if you want it to be loose and flow. On your last few albums it sounds like you guys are heading in that direction, so I was wondering if you've ever recorded that way?
HETFIELD: We're trying to do that sort of thing, but five feet is a little close for us. [laughs] We don't want to be within choking distance. We do the drum tracks first and we're all there for that, which is new for us. But when it comes time to do overdubs, it's like, "Get the fuck out of here. I'm letting loose." It works better that way because, for instance, if I'm there when Kirk is doing his rhythm stuff, he's already nervous doing stuff he hasn't done before, so the last thing he needs is me glaring over his shoulder. It's really better if I'm not there. Then when I hear it, it's like, "Grrrr…I guess I can live with that." But it's cool, it's pure, it's him. You guys, on the other hand, do almost everything live–and point out whatever isn't in the notes, which is pretty awesome.
HAYNES: Yeah, we like to point out where the overdubs are. Since I'm the only guitarist, the rhythm guitar drops out during solos. We usually don't change that, but when you do hear a second guitar, we overdubbed the rhythm part, because all the solos are live.
HETFIELD: Wow! That's awesome. So you don't overdub the solos–which is backwards off how most people approach it. Your overdubs are just for filling in, so it's really not cheating from the live approach.
HAYNES: Right. On the new album the only solo we overdubbed was "Larger Than Life," because that's a new song and we'd never played it live so I put the rhythm down and went back to the solo. But our main goal is to get the jamming feel on tape, which is why I play the solos live and overdub the rhythm as necessary. It's a very old school way of doing things, and something we have to do in order to get the three-piece vibe we want. If I didn't play a solo live, Allen and Matt would be guessing what to play, because we really do play off each other.
Do you carry that live approach all the way to effects?
HAYNES: Yeah. I 'm stepping on the pedals as I solo. The only time I remember running a signal back through an effect was the wah wah on "Blind Man in the Dark." I didn't play it live because I'm just not a good wah wah player. I've never been really into it. I heard it for that song, but if I tried to play it live, it probably would have taken us 20 takes to get it right–and we never do 20 takes.
Though you did seem to utilize the studio more this time.
HAYNES: Yeah, we really wanted to take advantage of it. For instance, on "Blind Man," we panned the bass off to the right, with the dirty vocal up the middle, the guitars off to the left and the drums are stereo. In pre-production, we talked about wanting to find one song where we could pan all the guitar to one side and all the bass to the other side like they used to do. It's a really old school mix.
WOODY: If you listen to some old Cream or Beatles records, you have the bass and vocals on one side, and the guitars and drums on the other side.
HETFIELD: That's sort of what we tried to do on our last couple of records–just have the guitars completely split. Kirk's in the right speaker and I'm in the left speaker. Just make it real simple if anyone wants to know who's playing what.
HAYNES: That's a really cool thing to do in a two-guitar format. We did that in the Allman Brothers a bit and I wish we had done it more because the old Allman Brothers were always Dickey on one side and Duane on the other. When you have two guitar players playing all the time, it's very cool, but when you have one guitar coming in and out, as we do now, you have to pick your spot.
It really is clear listening to Dose that there's only one guitar. James, I think you've tended to like duel-guitar bands. Is new for you to be so into a one-guitar setup?
HETFIELD: Not totally. I've always liked Rush, but it's true that in the early days, metal generally meant two guitars. In bands like the Scorpions, UFO and Judas Priest, you had the rhythm guy, and then the guy who did the solos. Those was their duties and it was clear cut, so that's how we always did it, too. But as time went on, I started thinking, "Why does it have to be so strict?" I love playing melodies, so I started saying, "Okay, Kirk, you play some rhythm and I'll just fuck around here." And it's been a lot of fun.
HAYNES: More slow, melodic guitar parts are popping up in your stuff. Is that you?
HETFIELD: Yeah. I love playing the melodic stuff. I love adding textures and colors, and we've mixed it all up now, with Kirk doing more rhythms and me doing more leads.
HAYNES: I love the way you guys used pedal steel on the new record. Was that you?
HETFIELD: Yeah. I can't really play the thing but if I figure the part out, I can make it sound good. Those things are hard, man. There's just so much going on, with the foot pedals and everything. It's like playing drums and guitar at the same time, but if you can figure something out it sounds awesome. I wanted to do that because we were accused of going country on Load: "Well, there's pedal steel on it and blah blah blah…"
WOODY: They ever hear of Led Zeppelin?
HETFIELD: Exactly! That's why I said, "Fuck 'em. I'll really play country on this one." I used both the pedal steel and a B-Bender Tele. I like the way you guys used some different instruments on Dose, too, like the mandolin, and more acoustics. It adds a lot of cool textures. Again, very Zep-like.
HAYNES: Thanks. To be honest, I was worried that you wouldn't like that stuff as much, and there is quite a bit of it on this album. All the mandolin stuff is Woody. He played a dulcimer on "Raven Black Night," an electric mandolin on "I Shall Return" and on "John The Revelator," he played a prima, which is a Serbian instrument that's sort of a cross between a mandolin and a banjo. It looks like a mandolin but plucks like a banjo.
Warren, the thing that always trips me out at your shows is seeing all these hippie kids dancing away to a Black Sabbath groove. It amazes me that they respond to music much heavier than what they are used to.
HAYNES: I think that kids today are much more open-minded. It's okay to mix genres, whereas in the old days you couldn't do that. I did, and Woody did–musicians did–but the general public tended to like one style of music, and it was like, "I'm a rocker, I don't listen to country music," or "I'm a blues guy and rock sucks," or "I'm into jazz and Eddie Van Halen sucks."
WOODY: It was like a class war.
HETFIELD: Exactly. You were either in or out, and it was hard to go half way. Like, I liked metal and punk, so I wasn't accepted by either group.
HAYNES: But it's not like that anymore. Kids listen to a lot of different stuff, and pick and choose what they like, and part of what makes Gov't Mule work is we run the whole gamut from really heavy to really soft. In a trio, you have to have the dynamics. There are really soft and delicate moments and really loud and obtrusive moments, and everything in between. Because dynamics is our fourth member.
HETFIELD: Ooooh. Deep. [laughs]
WOODY: He's got lots of little sayings like that written down on scraps of paper in his pockets.
HAYNES: Yeah, I've got lots of little crib notes. [laughs] The good thing about having a bigger band is all the different sounds and textures and layers you can do. In a trio, you don't have that option. That's why I use more effects than I would in a larger band and it's why we really exaggerate the dynamics.
HETFIELD: Yeah. In a lot of your songs, you'll go from an intensely loud and heavy chorus or bridge to a very mellow verse and it's like, "Wait a minute, how did they get here? I didn't notice how they arrived here!" It seems so natural and that's the thing that impresses me so much about your song structures. It always seems really hard for us to pull that off; the switches tend to seem too obtrusive and obvious.
HAYNES: Thanks. The chemistry between the three of us has been great from the get-go, which is really crucial to pulling that off, but it's also something we've discussed at depth: ways to vary things and react to each other and adapt to make a full, rich sound with just the three of us. If Woody and Matt played the way they do in a larger band, we would sound empty. The beauty is they just beat and bang to death, but it's all perfectly tasteful and fitting.
WOODY: I have a sneaking suspicion, however, that Matt and I would play exactly like this in a larger band.
HETFIELD: [laughs] Yeah, man, but now it's okay. Now you're let loose! You're free of the rhythm section cage. That must be awesome.
WOODY: Yeah, it's a real treat, especially coming from where I was. I played with Warren for eight years in the Allman Brothers and loved it, and then the first time I played with Matt, I thought, "This is it. This is the guy I'm supposed to play with." It's a rare opportunity all the way around: to be able to play in a three-piece, to be able to play busy and to be able to play with people who really know what they're doing and dig what you're doing. And it's also been very exciting to see so much progress. If you listen to the first record and Dose back to back, I think the growth is tremendous.
HETFIELD: "Game Face" has a killer, extra-heavy, minor riff. Its heaviness really stood out to me. It's even something that we would do. Actually, it reminds me of early UFO.
HAYNES: Hmmm. They were a good band, but I don't think I've been influenced by them at all. I was, however, a big Deep Purple and Ritchie Blackmore fan and a lot of my attraction to the harmonic minor carries over from those days. I don't remember exactly where that riff came from, but it's definitely pretty dark. I love minor keys, and it's a lot easier to be heavier in them than in a major.
HETFIELD: Oh yes. We know all about that. Major is too happy for us.
HAYNES: Although I've noticed that you guys have started trying some songs with major thirds, which is cool. It's good to go somewhere different once in a while.
HETFIELD: Yeah, but for us, that means the lyrics have to be extra heavy to balance it out. [laughs] Warren, your solos always seem so well formed. Are they written out?
HAYNES: No. All the solos are pretty much improvised. Most of the time, I would play it completely differently each time, then we'd decide which one we liked. Once we pick one and record it, I usually learn it and try to base my performances around it, or else the song will just seem wrong to people.
HETFIELD: Lately, Kirk has been trying to come up with solos more like that. He'll noodle along while we record basic tracks, trying out different ideas, and by the time he's ready to record, he has a pretty good idea of what will work. Jason does a similar thing, trying out different basses, so he ends up with all these awesome sounds, and they always fit right into the song. It's sort of a new thing for us, because it was always just Lars and I slugging it out during basic tracks: "That sucks! Do it over." Back and forth, back and forth. I was the only one stuck in hell forever. Now everyone goes with me, so it's less of a hell. It kind of intimidates Lars into doing his homework more and playing a little better. That process has made the studio a lot more fun for us. How many takes do you guys do to get these live performances?
HAYNES: It depends, but usually we use early the first two or three takes.
HETFIELD: Wow.
HAYNES: Although there are always the problem children that take 15 takes.
WOODY: But we will not play anything 15 times in a row. We'll just move on and come back. Our producer is pretty good at not letting us bang our heads against the wall.
HAYNES: He sees the magic dripping out after three or four takes, and comes up with some excuse for us to break.
HETFIELD: Warren, do you feel the need to perfect your parts or just see what comes about through jamming?
HAYNES: It's more about improv. I don't make myself sit down with a tape recorder and write riffs as much as I should. Instead, I wait for cool moments to happen when we're jamming or to get lyrically inspired and suddenly think, "I need a riff for this song." Part of it is laziness and part is just my love for improv. I'm more interested in where the jamming will lead us than in seeing what I can figure out in my living room.
HETFIELD: Does singing and playing ever clash for you? Does one suffer for the other live?
HAYNES: Yeah. I have to play a little less rhythm guitar than I would like. The guitar drops out more than I'd like it to, and that always bugs me when I listen to live tapes. At least I have the option of dropping out. I don't see how bass players like Jack Bruce, Sting, or Geddy Lee manage to pull it of.
HETFIELD: Do you also keep scratch vocals?
HAYNES: I end up keeping the live vocals for three or four songs on an album, and usually it's the more bluesy songs. The ones that are harder to play, I just play the guitar, then go back and do the vocals. I'm getting better at singing and playing at the same time, but it's tough.
James, do you guys listen back to your tapes to see what's working, the way the Mule does?
HETFIELD: Never. I do not listen to them ever. Lars keeps tapes. He's got the collection from hell, a room filled with set lists from 1981. He keeps everything, but he doesn't listen to it and I definitely do not. What happened happened, and to get in fights over "the tempo of that song really sucked" seems pointless. We'd rather keep moving forward.
HAYNES: You'd rather fight by memory. "The tempo on that song sucked but I'm not going to prove it." [laughs] Matt will sometimes play a song faster than normal one night and slower than normal the next night, but he's doing it on purpose, to see if he likes it better.
WOODY: He doesn't really care whether or not we like it better.
HETFIELD: [laughs] That's fine, though. The problem with us is Lars just doesn't know where he is on a song, and we're going, "Dude, we can't play that riff that fast!"
HAYNES: That happens to us sometimes, too, but usually Matt's experimenting, and we are constantly changing our songs around. Like, we didn't really like the way "Rocking Horse" came out on our first album, so we changed it around, slowed it down and made it more groove-oriented. And now we like it.
HETFIELD: And why not? It's your song. Sometimes you listen to a record and think, "God, that's fast. Why didn't we slow it down and put some hump into it?" "Sad But True" is like that for us.
HAYNES: Although it seems like on Load and Reload you guys pulled the tempos back quite a bit.
HETFIELD: Yeah, we did. Lars likes to hit the snare way back.        
Warren, you are using that simulated Leslie sound more and more. What is that?
HAYNES: It's a Korg G4. It helps break up the monotony of one Les Paul guitar playing all night. I even used it in the studio rather than a real Leslie because it doesn't alter the sound of your guitar; it's like your tone with a Leslie sound, whereas if you play through a real Leslie, you have to start over and build your sound from its sound. I run it stereo in the studio and mono live. I'm also using an octave divider and a tremolo unit and a few other things. We love the three-piece format, but we have to have ways to alter the sound, so Woody used a Rickenbacker and a Thunderbird on the album and I'm always looking for new effects.
HETFIELD: Do you still use Soldano heads?
HAYNES: Yes. For the Leslie I use two Soldano heads run stereo, but on the new record I mostly used my '68 Marshall Plexi and my Diaz CD-100 head which Cesar built me. Often, we ran three or four heads together, then blended them and see what we liked.
WOODY: Working with Michael [Barbiero, producer], you never really know what you're playing through. He'd constantly being going back into the iso booths, and playing around. I had an SVT and a 120-watt Orange stack with two 4×12's and a 200-watt Marshall head.
HETFIELD: Warren, you play several Les Pauls. Do you have a favorite?
HAYNES: Yes, a Custom Shop built in '89. It's not the best-sounding, but it's the most comfortable and I can really make it work for me. I also have a semi-hollow body but no f-holes, which I like a lot. And I have a fat-neck Les Paul which sounds great but you just can't play as dexterously on. I pull it out for some rhythm parts or for songs where I don't have to play real fast. I also played Woody's Firebird on three songs, including" Larger Than Life" and "I Shall Return," and got hooked on it, so I asked Gibson to make me one. I like it but I'm just getting used to how top-heavy it is.
HETFIELD: Yeah, Explorers are like that. You let them go, and they just fly right up. Allen, I know you have a hell of a lot of basses. I love that doubleneck. Do you have any extra special sweet instruments that you won't take on the road?
WOODY: Yes, a couple of Gibson Custom Shop basses. I have a Korina Firebird that I don't think even Warren's seen. HETFIELD: You've probably never even seen it. It's so secret you can't open the case. [laughs]
WOODY: Yeah, but I hear it's nice. I've also got some old Gibson EB-2's, the ones that look 335s, which I used a lot on the first album. And the violin-shaped bass…
HETFIELD: Oooh, those are sexy. You'll get laid with those, dude. [laughs]
WOODY: Hey, James, I'm a sexy guy! I don't need no stinkin' violin-shaped bass! [laughs] Live, I mostly play a Gibson Thunderbird and a Steinberger five-string. You know, I always wanted Felix Pappalardi's Mountain bass tone and it turns out that Michael Barbiero was Felix's first cousin–and he got me that sound, by God. When we first went into the studio together, I told him that was the sound I wanted, and he said, "I can do that. I went into the studio with Felix all the time."
HAYNES: The first session he ever attended was "Mississippi Queen," when he was a teenager. He was bored and about to leave when he heard this cowbell banging, and the opening riff to "Mississippi Queen" roaring out of the room. It just freaked him out and he thought, "This is what I want to do for the rest of my life."
HETFIELD: That's cool. Warren, there's not too much slide guitar on Dose.
HAYNES: No. Trios aren't really geared for slide unless you're gonna play chords, or play that simple George Thorogood style. It gets pretty thin when you play single note lines, like I do. I'm trying to work more in, but it's like, "Okay, you're the only singer and guitar player, why not make it a little harder and play with a glass bar on your finger?"
HETFIELD: And don't forget to look sexy.
WOODY: Okay, two out of three ain't bad. [everyone laughs]
HETFIELD: Warren, are you schooled?
HAYNES: Not really. I took three or four lessons from a guy back in North Carolina. He was unschooled himself but he was my favorite player in my home area and after a few lessons he said, "Why don't you just teach yourself. That's what I did, and what all of my favorite players did."
HETFIELD: I guess he didn't make too much money as a teacher.
WOODY: Nope. The thing is, by the time you get the urge to want a lesson, you probably don't need them.
HETFIELD: Yeah, you've already learned bad habits. I learned from slowing down UFO albums and figuring the solos out. Just by listening to music and figuring out what notes should be played. Man, I even learned by looking at live posters and seeing where their fingers were and thinking, "Well, that's something." I never took any lessons at all. I picked up a lot of the fast right-hand technique from punk, which made me sort of an outsider, which was probably the best thing that ever happened to me. I developed my own bag, but it was a natural thing for me. It wasn't like, "I'm going to find the next hot thing."
HAYNES: It's good to listen to lots of different stuff, just whatever you like. The first two records I ever bought were Alice Cooper, Killer and Jethro Tull, Aqualung. That's two weird records to begin with, but I think they hold up well.
HETFIELD: Definitely. Aqualung is one that my brother turned me onto. It wasn't that hard-rocking, but Martin Barre had a really good sound. He knew what he was doing.
HAYNES: There was so much good and different music back then and you'd just keep moving through it and discovering more new stuff. I went through my Black Sabbath phase before I even started playing guitar. Once I got into playing, it was Cream and Hendrix. Then it was Johnny Winter and the Allman Brothers, then Santana and Billy Gibbons and David Gilmour and Steve Howe of Yes. It was all different, but I loved it all.
WOODY: The common thread was all those guys could really play. That was a unique period for popular music…
HETFIELD: …where people could actually play their instruments. [laughs]
WOODY: Yeah, seriously. Where the people who rose to the top could play. Where by proxy if your band had superior musical ability you were going to go somewhere.
HETFIELD: Instead of just having a cool haircut. Like us. [laughs]
Warren, I really dug your two instructional videos [both available on Hot Licks video, along with Woody's Classic Rock and Blues Bass]. The end of the second one was all jamming, which I thought was great: "Here's the Mule. This is what I do with it all. I can sit here and tell you what color slide I use, but here's how it's utilized in a band, and here's how a band performs." That was very cool.
WOODY: And if you think about it, that's a pretty convenient way to make a video.
HETFIELD: Exactly. When I saw that, I thought, "Hmmm, maybe I will do one of these after all." [laughs] Warren, I notice that you're in the middle toggle position a lot. Is that a fuck up–because you just didn't get it all the way up there–or what?
HAYNES: I never use the middle with both volumes cranked all the way up. I use it sometimes with one of the volumes down a bit. Otherwise, I use either the treble or bass pickup alone.
HETFIELD: You guys did some session work in Nashville. How was that?
HAYNES: I got so burnt out on the whole scene that about the time I was getting good enough to make a living was the same time I realized I really didn't like it. Then I got an offer to do a solo record, and then to join the Dickey Betts Band, which I jumped on and was very happy to forget the session thing. I learned a lot from it, but I think I learned about as much as I could for what I wanted to do. I thought that it was already starting fuck up my playing, and my sense of rock and roll, which is not meant to be perfected. I got out just in time.
HETFIELD: I've been pretty interested in country music lately, so when we were in Nashville I went to a session and watched them tracking and I was sortr of shocked by the total factory vibe. This singer who came in with this song–which someone else wrote–and enough money to hire a great band, and the guy couldn't sing for shit. It's just if you have money you can get the guys. It seemed like such a sterile, slutty atmosphere.
HAYNES: Yeah, it is. The guys will play these licks on a session and three hours later they're somewhere else playing the same licks on someone else's song. And if you nail a solo, they go, "Okay, now learn that and play it better. This note's out of tune and this one's a little rushed."
HETFIELD: "The note's rushed." Holy shit.
I really like your lyrics a lot. There's a lot of sarcasm, and a lot of rich versus poor imagery.
HAYNES: Well, I like to think of it more as "us and them," us being people who want to help each other and them being people who only want to help themselves. Maybe when I was a kid I had it out for all rich people, but now I know that there as many good rich people are there are bad poor people.
HETFIELD: But there's a definite underdog vibe to your lyrics that I really dig.
HAYNES: There is, and there's a lot of social commentary, but it's all tongue in cheek. None of it's meant to be taken too seriously.
Metallica has also always championed the underdog.
HETFIELD: Yeah, but it's all so vague that it could mean anything to anyone. I know what it means to me, but it changes all the time, so I'd rather not put ideas in people's heads. I'd rather people figure it out for themselves.
HAYNES: Right, I've found it's better for people to decide for themselves, because they'll come up with grandiose visions that relate to their own lives, and which you could never match. You guys have been spreading the writing credits around a bit. I notice Jason had one on Reload.
HETFIELD: Yeah, Jason finally got in there. When we put a song together, everyone contributes, but that's not really writing to us. Now we're letting everyone play the way they play, instead of dictating everything. I guess that's especially true of Jason.
WOODY: Man, he's a slamming bass player.
HETFIELD: Yeah, and he's gotten so much better on this record. I was just blown away. He's getting songs done in a day, whereas it used to take him days to fall into a groove and nail a tune. We used to be really stiff in not allowing guys to jam with other people or do side projects. We thought it was the end of Metallica if anyone went off and did something else. "What about the fist, man?" It was a big thing, but he's done that a ton, and it's really helped his playing tremendously, so we were probably stupid about that. He just loves to play, and can only benefit by doing so. Jamming can only help.
HAYNES: You're telling us!


http://alanpaul.net/wp-content/uploads/2016/02/Mulehetfield.jpg
432
629
AlanPaul
http://alanpaul.net/wp-content/uploads/2014/03/alan-imus-300x158.jpg
AlanPaul
2016-02-24 18:50:08
2017-07-01 19:59:57
Metallica Meets Gov't Mule