Where Ya Been Frank Marino

In 2005, I caught up with Mahogany Rush's Frank Marino for Guitar World. Just stumbled back across this story and enjoyed reading it I hope you do, too.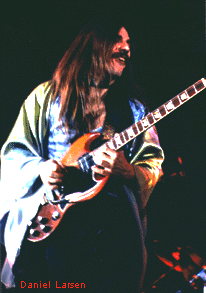 After touring as the leader of Mahogany Rush for over 20 years, Frank Marino decided he had enough in the fall of 93. On the verge of becoming a dad for the first time, he returned to his Montreal home and called it a day.
"I got back from a tour and said, 'I've had it. I can't do this anymore,'" recalls Marino, who fiery, Hendrix-influenced playing has won the praise of Zakk Wylde and others.
The guitarist immersed himself in family life and in running a computer/audio/video networking company with his wife. Then the Internet came around and Marino logged on to do some genealogical research for his father, who was searching for long-lost relatives. He stumbled instead onto a Mahogany Rush fan site. Astounded by the continued interest in his work and by the passion of his fans, the ever-polite Marino sent a thank you note to the webmaster, which led to him becoming involved with the site.
"I streamed some songs, which I had recorded just for me, " recalls Marino. "I get the same enjoyment from music whether the performance is public or private and I had no intention of releasing these tracks, but the interest and encouragement was very nice."

Those tracks became 2000's Eye of the Storm, his first album in 8 years, which sparked a slow but steady re-immersion into the music business. He is now with Just a Minute Records, which recently released Mahogany Rush's two-CD Real Live! and will slowly re-release new versions of all the old albums for which Marino can secure rights.
"I've just stumbled back into this his but now I'm doing everything on my own terms," says Marino. "I think my playing has matured a lot. I've slowed down and learned to listen a lot more, not just to my own guitar, but also to everything. I am more tuned in to the band, which makes the jamming more realistic – and we are a jam band. I am enjoying this whole thing a lot more than I did the first time around."
http://alanpaul.net/wp-content/uploads/2014/03/alan-imus-300x158.jpg
0
0
AlanPaul
http://alanpaul.net/wp-content/uploads/2014/03/alan-imus-300x158.jpg
AlanPaul
2015-05-12 08:29:35
2015-05-06 03:13:06
Where Ya Been Frank Marino