Allman Brothers Announce 4-disc set due in May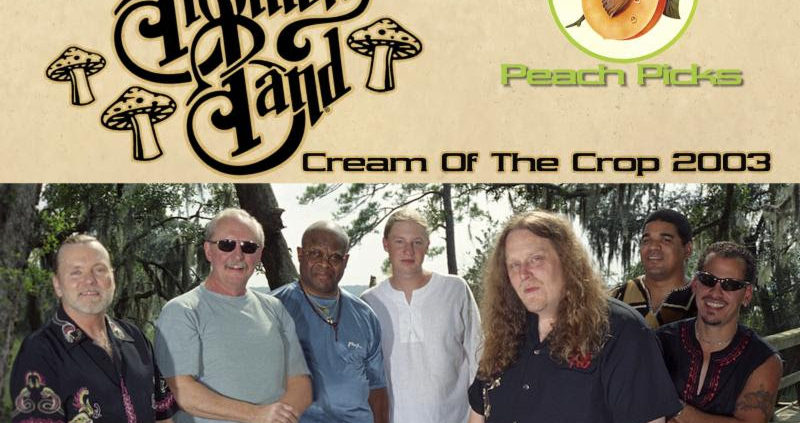 FOUR-DISC SET, OUT IN MAY, FEATURES CURATED SELECTIONS FROM SIX SUMMER SHOWS
The following is a very lightly edited press release – not my words.
THE ALLMAN BROTHERS BAND will release Peach Picks:
Cream of the Crop 2003
, a collection of the best performances culled from six shows in July and August 2003
May 16
via their
Peach Records
. The collection includes 36 tracks recorded between July 25 and August 10, 2003 in Indianapolis,
Pittsburgh, Darien Center, NY, Hartford, Charlotte
and
Raleigh
, with no song repeated.
The 2003 iteration of the ALLMAN BROTHERS BAND–founding members
GREGG ALLMAN, JAIMOE
and
BUTCH TRUCKS
plus
WARREN HAYNES, MARC QUINONES, OTEIL BURBRIDGE
and
DEREK TRUCKS
–would prove to be the longest-running line-up and most consistent in its live performances. The band had just released their first album
in 10 years
, the Grammy-nominated
Hittin' The Note
and were in top shape. Guest musicians on four
Cream of the Crop 2003
songs include
Susan Tedeschi, Karl Denson
and
Branford Marsalis.
Continuing the tradition of providing quality content for fans, Peach Picks: Cream Of The Crop 2003 will be available in an array of configurations. The full curated four-CD set will be offered, both physically and digitally. Each of the full six concerts will also be available for completists, and this marks the first time any of this music has been made available digitally.
Recorded for the then-nascent "Instant Live" CD series (fans picked up copies of the concert immediately after the show as they were being burned on CD), these shows capture the group at full throttle. For this collection, Warren Haynes serves as Supervising Producer, longtime manager Bert Holman as Executive Producer, with Bill Levenson and John Lynskey as Associate Producers.
Haynes says, "That was an important time in the growth of that incarnation of the ABB. We had just released Hittin' The Note and everybody was psyched to be playing a lot of new material from an album we all were very proud of and there was new life being breathed into a lot of the older songs."
"Warren was asked to oversee this release because he has a keen ear, a great memory for individual show performances and is a master at song sequencing," says Holman. "The entire process went very well; we were all on the same page about what song should be included and in what order, and everybody in the band agreed with the final choices."
Cream of the Crop 2003
, like many Allman Brothers Band releases before, is dedicated to a recently lost Brother. This one is in honor of
Gregg Allman 1947-2017
.
Cream Of The Crop 2003 track list:
Disc One
1) Don't Want You No More
2) It's Not My Cross To Bear
3) Black Hearted Woman
4) Rocking Horse
5) Hot 'Lanta
6) Old Before My Time
7) Come And Go Blues
8) Woman Across The River
9) Desdemona
10) The High Cost Of Low Living
11) Hoochie Coochie Man
12) Revival
Disc Two
1) Trouble No More
3) You Don't Love Me
4) Who To Believe
5) Stormy Monday
6) Good Morning Little Schoolgirl
7) In Memory Of Elizabeth Reed
Disc Three
1) Ain't Wastin' Time No More
2) Worried Down With The Blues
3) Statesboro Blues
4) Stand Back
5) Melissa
6) Mountain Jam
7) Layla
Disc Four
1) Don't Keep Me Wonderin'
2) Done Somebody Wrong
3) Gambler's Roll
4) Soulshine
5) Who's Been Talking
6) Don't Think Twice, It's Alright
7) Wasted Words
8) Dreams
9) Whipping Post
10) One Way Out
http://alanpaul.net/wp-content/uploads/2018/04/unnamed.jpg
800
800
AlanPaul
http://alanpaul.net/wp-content/uploads/2014/03/alan-imus-300x158.jpg
AlanPaul
2018-04-24 17:06:19
2023-05-24 12:49:00
Allman Brothers Announce 4-disc set due in May