The amazing, insane totally true story of Col. Bruce Hampton's death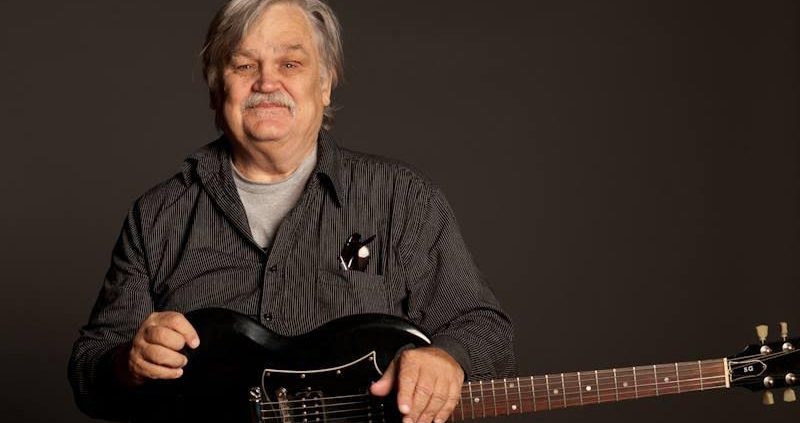 A year ago today, May 1, 2017, Col. Bruce Hampton died n in the most dramatic possible fashion during his 70th birthday party concert at the fabulous Fox Theatre in Atlanta. I wrote the following story for the Wall Street Journal and was pleasantly surprised to watch it be one of the most read and most shared stories on the WSJ site for days. I knew Bruce would have liked that. The whole thing is no less insane a year later.
I was pretty close to Bruce, so it was a gratifying but very difficult story to report and write. It was the second of three incredibly emotional interviews I did with Warren in just a few months, in between Butch Trucks and Gregg Allman's deaths. Just typing that now still shakes me up!
If you want to read more:
My piece on why Bruce and the Aquarium Rescue Unit were so important is here.
And my personal tribute written in the shock of his death is here.
***
ORIGINALLY PUBLISHED IN THE WALL STREET JOURNAL:
Bruce Hampton may be the only person to have died at his own wake. The guitarist/singer/bandleader collapsed on stage of Atlanta's Fox Theater on Monday, May 1, at the climax of Hampton70, a birthday celebration featuring dozens of his acolytes, including members of the Allman Brothers Band, the Rolling Stones, Phish, Widespread Panic, REM, Blues Traveler and Widespread Panic.
The sold out show concluded with over 30 musicians on stage smiling broadly as Hampton led them through Bobby Bland's "Turn On Your Lovelight." He pointed to 14-year-old Brandon Niederauer to solo, then went to one knee and collapsed. The band, thinking it was a theatrical end to a celebratory night, kept playing for several minutes before they stopped and EMTs rushed on stage to try and revive Hampton.
"It wasn't the first time any of us had seen him on the floor like James Brown," says Jeff Sipe, a drummer and longtime collaborator who was conducting the musicians. "It took a minute for concern to grow."
Hampton, who had a heart attack in 2006, was rushed to Crawford Long hospital, just a few blocks from the venue. Sipe, Warren Haynes, Derek Trucks, Susan Tedeschi, Jimmy Herring and others were met there by a medical team who said that Hampton had suffered "a massive heart attack" and died at the venue, noting that nothing could have saved him.
"Everybody was devastated," says Haynes, of Gov't Mule and formerly the Allman Brothers Band. "It was one of the most epic nights of music anyone on stage or in the audience has ever experienced. To go from honoring Bruce in this amazing way to mourning him in the blink of an eye was emotionally jarring."
The crowd of 5,000 chanted "Bruuuuuce" throughout the night. Hampton performed a 20-minute set at the start then joined in occasionally, mostly watching from a chair on stage. Performers ranged across generations, from the 14-year-old Niederauer, the star of Broadway's School of Rock, to 88-year-old pianist Johnny Knapp, who recorded with Billie Holiday.
"Right before he went down, he looked me in the eye and smiled," says Sipe. "He did the same thing to a few others. In retrospect it feels like he was saying good bye."
The man who called himself Col. Bruce Hampton (ret.) was also an actor, appearing in 1996's Sling Blade and the recent Here Comes Rusty with Fred Willard and as a voice in the long-running cartoon show Space Ghost Coast to Coast. He was a fixture of the Atlanta music scene since his experimental Hampton Grease Band earned him the moniker "the Frank Zappa of the South" in the late 60s. Hampton's influence and revered place in the jam band universe stemmed from the Aquarium Rescue Unit, who performed from 1988-1993. They were akin to the Velvet Underground – a group which never sold much but had tremendous influence on others, notably Phish, Blues Traveler, Widespread Panic, and the Dave Matthews Band. ARU members Sipe, Oteil Burbridge and Jimmy Herring have gone on to play with the Allman Brothers, the Dead, Dead and Co and many others. Derek Trucks gigged with Hampton often and attributes his success as a musician and a person to the inspiration and guidance he received.
Hampton was the subject of a documentary, "Basically Frightened," named after one of his best-loved songs.
"'Basically Frightened is a very ironic title, because Bruce was absolutely fearless," says pianist Chuck Leavell, of the Allman Brothers and Rolling Stones, who knew Hampton for over 40 years and performed Monday. "He taught the rest of us to be musically fearless, that going places you're nervous about will make you a better musician and a better person."
Widespread Panic's John Bell adds that an overwhelming sense of good will enveloped everyone at the birthday concert, including the man of honor.
"There was an incredible feeling in the building that was family reunion as much as concert," says Bell. "Everyone rose to the occasion, including Bruce, who was playing and singing as well as I've ever seen him. He was in command until the last second and it was glorious to see. I believe he went from fully present in this world to fully present in another world, with very little in the middle."
http://alanpaul.net/wp-content/uploads/2018/05/unnamed.jpg
532
800
AlanPaul
http://alanpaul.net/wp-content/uploads/2014/03/alan-imus-300x158.jpg
AlanPaul
2018-05-01 20:08:42
2023-05-24 12:49:00
The amazing, insane totally true story of Col. Bruce Hampton's death