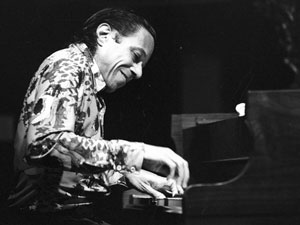 RIP Horace Silver, a jazz giant whose music could be catchy without being simple, whose musical depth is often overlooked and who was a co-founder of the Jazz Messenger with Art Blakey… and who has a surprising Allman Brothers connection.
This is a very cool remembrance by a WSJ reporter who is also a fine pianist and had a lengthy correspondence with Mr. Silver. I think it captures a lot more than a standard obituary does.
I loved Horace Silver's music and Dickey Betts is a big fan of it as well.
At the end of a lesson interview we did with him in 1996, Guitar World Music Editor Jimmy Brown and I were walking out of the hotel room when Dickey called us back and said to Jimmy, "Do you know Horace Silver's The Preacher. It would be a blast to play it with a fine guitarist like you." And the two of them went to town, both kneeling on the floor because neither had a strap on their guitar. A very memorable moment for me, and the kind of little vignette that just didn't fit into One Way Out: The Inside History of the Allman Brothers Band.
And a few years later, Dickey was out of the ABB and back with Great Southern – and he's playing "The Preacher." I sat in front of the stage at BB King's and heard the following:
Dickey had been playing the song for many years:

A few choice Horace cuts:
Horace's original "The Preacher":
"Song for My Father," which Steely Dan sort of sampled for "Rikki Don't Lose That Number":

http://alanpaul.net/wp-content/uploads/2014/03/alan-imus-300x158.jpg
0
0
AlanPaul
http://alanpaul.net/wp-content/uploads/2014/03/alan-imus-300x158.jpg
AlanPaul
2014-06-20 13:04:26
2014-06-20 13:04:26
Horace Silver's surprising Allman Brothers connection