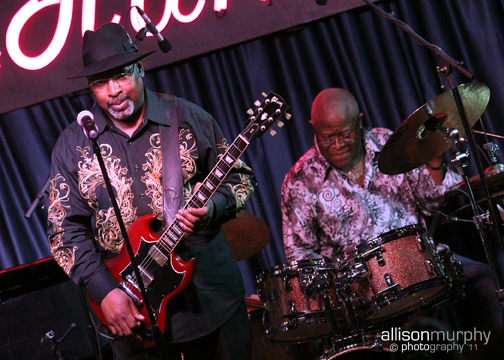 The interview below originally ran on Guitarworld.com and WSJ.com's Speakeasy blog – I combined two stories into one here. Over the ensuing two-plus years I have only gained more respect for Jaimoe's Jassz Band and for Junior Mack, whom i have gotten to know quite well. And I have developed a much deeper relationship with Jaimoe. This represents one of my first in-depth conversations with him. there were many more to come in the writing of One Way Out: The Inside History of the Allman Brothers Band.

*
Two thousand eleven was a banner year for solo releases by members of the Allman Brothers Band.
Gregg Allman's Low Country Blues, Warren Haynes' Man In Motionand Tedeschi Trucks Band's Revelator were all nominated for the Best Blues Album Grammy Award. ( Revelator ended up winning.)
But the fourth and final release is the sleeper pick: Renaissance Man by founding Allman Brothers drummer Jaimoe and his Jasssz Band.
Released December 17, 2011, by lil'Johnieboy Records to less attention than any of his bandmates' efforts received, Renaissance Manis a diverse, eclectic and thoroughly listenable album. Jaimoe is the band's founder and heart, and the group features a septet of swinging, in-the-pocket players, including a great three-man horn section.
But what makes it all work is Junior Mack's revelatory singing and guitar work. A New Jersey native and longtime staple of the New York blues world, Mack reveals wide ranging talent on Renaissance Man, with several memorable originals that span the blues, rock and jazz worlds. Mack also helps the band make the blues classic "Leaving Trunk" their own, turns in a moving version of the soul classic "Rainy Night in Georgia" and re-imagines the Allmans' "Melissa" as a bossa nova.
We caught up with Mack and Jaimoe on the phone.
Jaimoe, the Allman Brothers Band pioneered the use of two drummers in rock. After so many years as part of a team with Butch Trucks, was it difficult to adjust to being the sole drummer in your own band?
JAIMOE: It took a little time. I'm glad I have the chance to do both. I play percussion on the drum set; that's been my role in the Allman Brothers. Butch and I developed our style naturally and we complement each other and create a bigger, more interesting sound. A lot of drummers playing together play the exact same thing, which is ridiculous. That's like having four guys singing in unison, instead of harmony, which makes for a much bigger, more interesting sound. You have to listen, find a space and add something. Some drummers just aren't that musical, I guess.
Over the years, I stored up a lot of stuff in my head that I couldn't use and now I can. If you listen to great musicians and try to analyze the difference between, say [saxophonists] Sonny Rollins and John Coltrane or [drummers] Max Roach and Tony Williams, you have to look beyond the notes; what made them great is their personalities. You can't copy that. Drumming is more than keeping time and I've always been of the mindset of whatever you do, just do what you do and people will take notice.
Who came up with the bossa nova arrangement of the Allman Brothers classic "Melissa"? 
JUNIOR: That was me, and it was the kind of discovery that's a happy accident. I was playing a private gig for the CEO of Alcoa with my solo band and I found out he was from Brazil and at the last minute they told me the band should play as much Brazilian music as possible – except I really didn't know any. I started thinking of songs that could adapt to a bossa nova beat and I thought of "Melissa." We tried it and I thought it worked beautifully. When I played it for Jaimoe, he loved it and we immediately added it to the set.
Junior, how big of an influence were the Allman Brothers on you?
JUNIOR: Very big. I have always loved their music and so meeting and playing with Jaimoe was a thrill and continues to be so. And, of course, it also helped provide a group of hardcore fans who were ready to listen to us and have been very supportive. The Allman Bros connection has helped tremendously. It's been a great experience all the way. I grew up listening to Jaimoe and the Allman Bros as a kid, so there's not too much more I can ask for.
All that being the case, was it intimidating for you to start playing with Jaimoe?
JUNIOR: It was a little intimidating but it came mostly from the seasoned cats that were also on the bandstand. I'm a self-taught guy. I didn't go to school for music.. I don't really know how to write or read music, so the intimidation came from playing with guys who are really stellar musicians like [saxophonists] Kris Jensen and Paul Lieberman and [trumpeter] Reggie Pittman and trying to relay my songs and ideas to them. These guys could communicate a little better than I could on a musical level.
JAIMOE: Junior is on everyone else's level; he just didn't realize it right away. Junior played a lot of blues for a lot of years and that's how people think of him, but it's not all they can do. He not only plays all diff styles, but he writes all different ways. I would say he is more of a composer because of the way he writes and the way he plays; it's never random.
JUNIOR: I'm rooted in the blues, so that's in any music I play, sing or write, but I don't really break it down. I just play and try to play what's right for the song.
Despite the name and a three-man horn section, the Jasssz Band isn't really a jazz band.
JAIMOE: You can call it more than ways than one. We have some jazz in our blues, some blues in our jazz and some rock in all of it. We do everything but hillbilly music. Maybe we should learn a Hank Williams song.
Junior played a lot of blues for a lot of years and that's how people in the New York area think of him, but it's not all he can do.  When I grew up, everyone played baseball, basketball and football and that was normal. Same thing. He says that he was intimidated when he first started playing with us guys. Well, he was on the same level but didn't realize it, but that's okay; insecurity is the eye of the tiger!
Your CD is the sleeper pick from a great crop of Allman Brothers solo releases. You've been hidden behind the drums all these years….
JAIMOE: Thanks. That was always in the back of my head. You know, Ringo Starr made a couple of great solo albums after the Beatles broke up and no one expected that either!
http://alanpaul.net/wp-content/uploads/2017/06/Jaimoe-Junior-.jpg
360
504
AlanPaul
http://alanpaul.net/wp-content/uploads/2014/03/alan-imus-300x158.jpg
AlanPaul
2014-07-24 16:27:08
2017-07-01 20:19:25
Jaimoe and Junior Mack – an interview