Watkins Glen Story and Video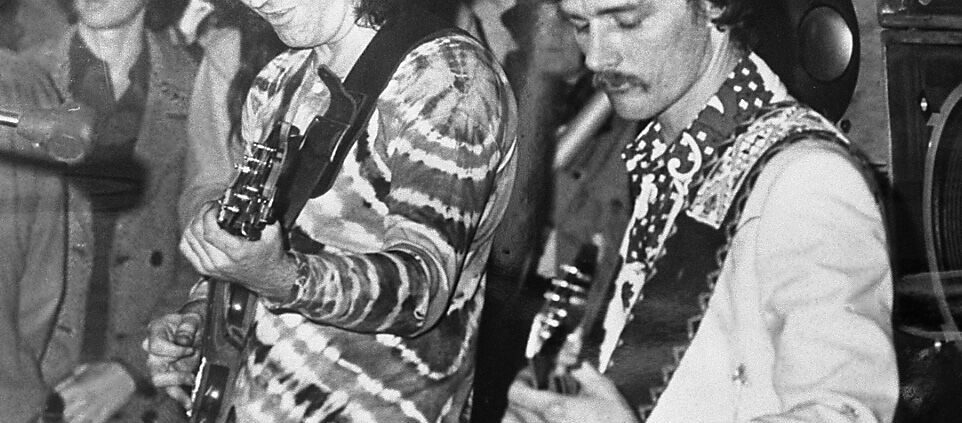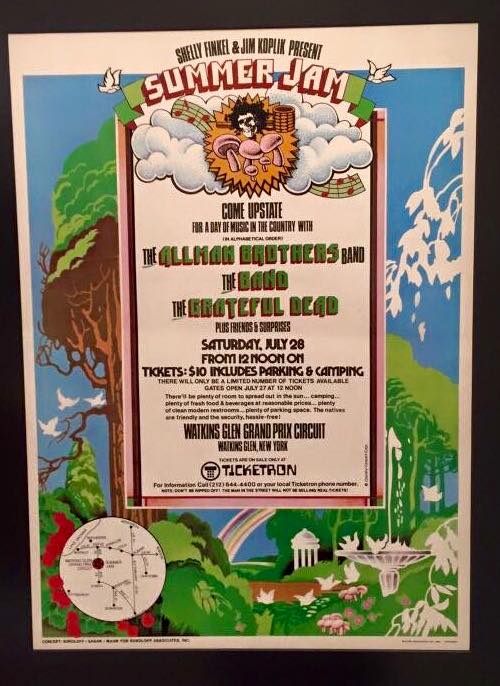 In 1973, the Grateful Dead, Allman Brothers Band and The Band teamed up for the Watkins Glen Summer Jam in New York's Finger Lakes Region. It was the largest music festival ever, drawing about 650,000 people — nearly twice as many as Woodstock four years earlier.
The one-day festival was planned by the Dead's Sam Cutler and the Allman Brothers Band's Bunky Odom. They agreed together to invite The Band to open the day's music.
"We thought those three bands represented America," says Odom. "They were the three best American bands and they related to each other, the music related, the fans related and they all knew each other. It was just a great fit."
The concert was planned for the Grand Prix speedway in the remote hamlet of Watkins Glen, New York. The concert was produced by two young promoters Jim Koplik and Shelley Finkel, who paid the Dead and Allman Brothers $110,000 each. One hundred and fifty thousand tickets were sold for $10, but the crowd exploded to many times that number. The rest got in for free, though many of the masses certainly never got within sight of the stage. The small country roads leading to the concert site became parking lots – first figuratively, then literally, as many people abandoned their vehicles and walked miles to the concert.
"It was hard to get in and out of that place," says Weir. "It got way, way bigger than we intended for it to get. We thought maybe if we're lucky we'd get 100,000 people; 60-70,000 would be nice and handle-able."
With crowds pouring in and an estimated 200,000 people already on site, the July 27 soundchecks became public performances. The Dead played about two hours, followed by The Band playing for close to an hour, then the Allman Brothers, reportedly feeling pressured to match the Dead, performed a two-hour set. The one-day festival had organically doubled in length.
Recalling the soundcheck still registers amazement in the voice of Allman Brothers drummer Butch Trucks. "That afternoon rehearsal ended up being my most powerful memory because in daylight you could see 600,000 people stretched out in front of you and my God! What a sight!" he says. "Everyone should get up in front of 600,00 people some time in their life. It's sort of intimidating but also very, very inspiring."
At Cutler's insistence, the promoters had hired Bill Graham, a key figure to both the Dead and Allman Brothers, to handle the staging and backstage area. Graham had taken his usual care in constructing a welcoming backstage area, which Perkins recalls as "idyllic." Palm trees were brought in and most band members had their own trailers, traipsing in and out of one another's spaces, with endlessly mutating jam and hangout sessions. Leavell, Kreutzmann, Garcia and Jaimoe seemed to particularly enjoy playing with one another. In his memoir, Deal
, Kreutzmann writes that his best memories of the Summer Jam was playing with Jaimoe backstage.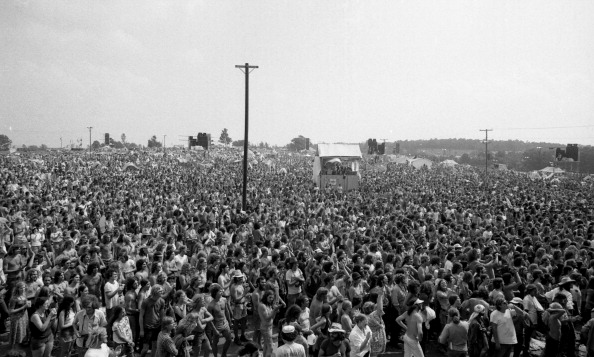 While the bands were enjoying each other's company, the crowd just kept swelling. Impossibly hot weather was interrupted by rain storms, but things remained mostly calm and friendly. In A Long Strange Trip: The Inside History of the Grateful Dead
, Dennis McNally reported that the county sheriff said, "We have four or five times as many people here as we have at our races, and we are getting less than half the trouble. These kids are great."
"The news reported there were 600,000 there and maybe 2 million people in the area and it was declared a disaster area," recalls Weir. "As disaster areas go, it was a pretty nice one, but people who were interested in going home, for instance, well, they couldn't. If they wanted to leave, it just wasn't possible. People had to be peeled away by layer by layer."
This story is excerpted from a much longer piece which will appear in an upcoming Grateful Dead magazine I wrote and edited. Stay tuned for more info.
Video of the event, shot on Super 8, has recently surfaced. Enjoy. It's quite a gem.
http://alanpaul.net/wp-content/uploads/2017/03/Dickey-Jerry-Sidney-Smith.jpg
712
962
AlanPaul
http://alanpaul.net/wp-content/uploads/2014/03/alan-imus-300x158.jpg
AlanPaul
2016-07-28 13:35:08
2017-07-01 19:55:23
Watkins Glen Story and Video