Jaimoe's Jasssz Band going strong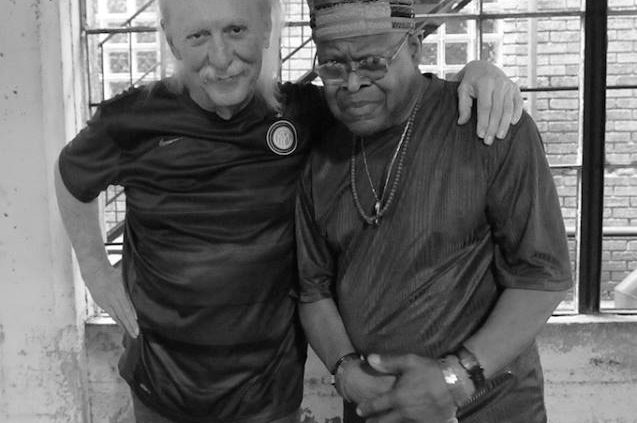 Rather unexpectedly, Jaimoe is the last of the original Allman Brothers Band members still performing regularly. Just looking at that sentence is so sad that I can't even dwell on it, so let's get positive: his Jasssz Band is terrific and Jai himself is playing his ass off.
Last night they played their monthly residency at New York's Iridium club and it was as fine a show as I've ever seen this 7-man band put on, and I've seen a lot, and enjoyed them all. Jaimoe was on fire all night, playing unusual fills that spurred terrific solos by everyone while keeping everything moving with his usual swing. He also spoke to the crowd more than usual and seemed to be truly enjoying himself. Afterwards, he was in great spirits. So, to all the people asking me in various forms how Jaimoe's doing, there's your answer. He's responding to sadness and tragedy the same way the Allman Brothers Band has since 1971: wasting time no more.
Speaking of which, Junior Mack always slays "Ain't Wasting Time No More." I've heard him sing it with the Allman Brothers at the Beacon on a show Gregg missed and I've heard him sing it right next to me as recently as a couple of weeks ago at Suzy Que's, an electrifying moment for me. Last night he played it beautifully, and lucky for you I videoed almost the entire song, and it is at the bottom of this post. Check it out, and let me know if you can pick up how many Allman Brothers songs he quotes in his extended solo. This was the first JJB show since Gregg's May 27 death and it sure felt like they were all feeling extra inspired. Exciting new directions for the band.
As far as I can tell, these are their currently scheduled upcoming shows. You should really catch one if you can and I definitely think that the Iridium shows in particular are worth traveling for.
Friday, 6/30, Fall River, MA
7/12, The Iridium
8/10-12, Peach Festival
8/16, The Iridium
8/31, with the Marcus King band, Darryl's House, Pawling, NY
9/13, The Iridium
9/21, Laid Back Festival, PNC Arts Center, Holmdel, NJ
9/23, Laid Back Festival, XFinity Theatre, Hartford, CT
9/24, Laid Back Festival, Jones Beach, Wantagh, NY
10/18, The Iridium
"Aint Wasting Time No More" >
http://alanpaul.net/wp-content/uploads/2017/06/butch-and-jaimoe-les-brers-kirk.jpg
960
637
AlanPaul
http://alanpaul.net/wp-content/uploads/2014/03/alan-imus-300x158.jpg
AlanPaul
2017-06-29 19:05:47
2023-05-24 12:49:41
Jaimoe's Jasssz Band going strong