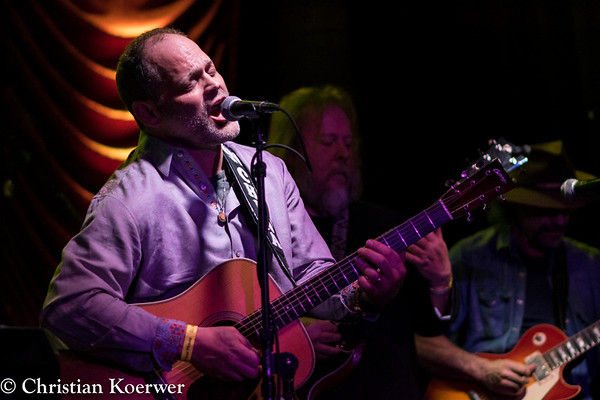 On March 1, 2017, I paid tribute to Butch Trucks with a special band: my Big in China core supplemented by Andy Aledort (Dickey Betts), Peter Levin (Gregg Allman) and Junior Mack (Jaimoe).
This show meant a lot to me. March in NYC has a lot of resonance for us Allmans people. It was the most exciting month for almost 25 years and a sense of loss has lingered each of the last three years as 3/1 approaches and we're not prepping for the Beacon. We lost not only the great shows, but the camaraderie, the pre- and after- show parties, drinks and meals. This year was that sense of loss times 1000, because Butch's death shattered our hearts and left many of us reeling, sad and confused.
Butch was incredibly helpful in the writing and promotion of One Way Out: The Inside History of the Allman Brothers Band and the process brought us pretty close. I have valued his daughter Elise Trucks' friendship for a long time. I was devastated by his death and I wanted to honor him. So I thought about who I would want in a dream band to do this and quickly decided: Andy on lead and slide, Junior on guitar and vocals, Pete on keys. I know this music really well and these three are as good as ANYONE at playing it. So I called them all and one by one they said yes, sure. We added my Big in China band, fortified it with some of Andy's guys and special guests like Tim Woods, Ben Sparaco and the amazing Taz and set this thing up. Then the only question was, could we pull it off, and by "we" I mean "I" because I never doubted Andy, Jr or Peter. I knew I had to step it up.
Honestly, it came off better than I could have hoped, and it was very emotional for all of us to play this music together. Because of our depth of sadness for Butch's loss. Because of our sadness about no more Allman Brothers Band. Because we all LOVE this music and it has been central to our lives. We played from the heart and for the heart and we got so much love back. I feel incredibly gratified. Proud that we pulled it off and validated in my belief that if we could do so, it would mean a lot to a lot of people.
Thanks to everyone who came out, to Kendall Deflin, Gideon Plotnicki, Kunj Shah and Live For Live Music for doing so much to make it happen and to American Beauty NYC for hosting.
To paraphrase Jaimoe at Butch's Macon Memorial Service: Thank you God. Thank you Butch Trucks. And thank you Allman Brothers Band.
"Dreams"

"You Don't Love Me"

"You're Gonna Make Me Lonesome When You Go"

"Blue Sky"

"Ain't Wastin' Time No More"

"In Memory of Elizabeth Reed" w. Brandon "Taz" Neiderauer

"Beijing Blues"

"Stormy Monday"

http://alanpaul.net/wp-content/uploads/2017/03/20170301-March-01-2017-_DSC0325-M.jpg
400
600
AlanPaul
http://alanpaul.net/wp-content/uploads/2014/03/alan-imus-300x158.jpg
AlanPaul
2017-03-05 16:04:33
2023-05-24 12:50:45
A Tribute to Butch Trucks 3/1/17: thoughts, photos, videos.